When I was preparing for Rissa's arrival, I didn't really know what I was doing. I pretended I knew and tried to do research. Well, let's just say that was both helpful and not-so-helpful. Between unsolicited advice, long answers, no real answers, strong opinions, and reading a ton of internet reviews my head hurt. The advice given when putting together our baby registry seemed too sales-y. Really it does come down to personal preferences and baby's preferences… neither of which I knew much about before giving birth to my first baby.
There are a few pieces of baby gear I found essential for our family and others an added bonus. I really didn't have anything I thought was completely useless. One thing I loved having for my daughter was a rocker napper. We received one for her first Christmas and it helped with nap and play time. It was the one way for me to keep Rissa happy and safe while I showered "alone" as she chilled in her chair in the bathroom.
That chair has gone through a lot and even traveled out of town with us in the early days. When I first saw the Tiny Love 3-in-1 Rocker Napper, it looked even better than the old one we have from a different company. I was excited about this seat! I learned fast that my idea of moving the bassinet about the house for naps was not realistic, but we don't have space for tons of different gear. Versatile baby gear is a must!
Here are 3 Reasons why I love the Tiny Love 3-in-1 Rocker Napper:
3 – Easy to assemble.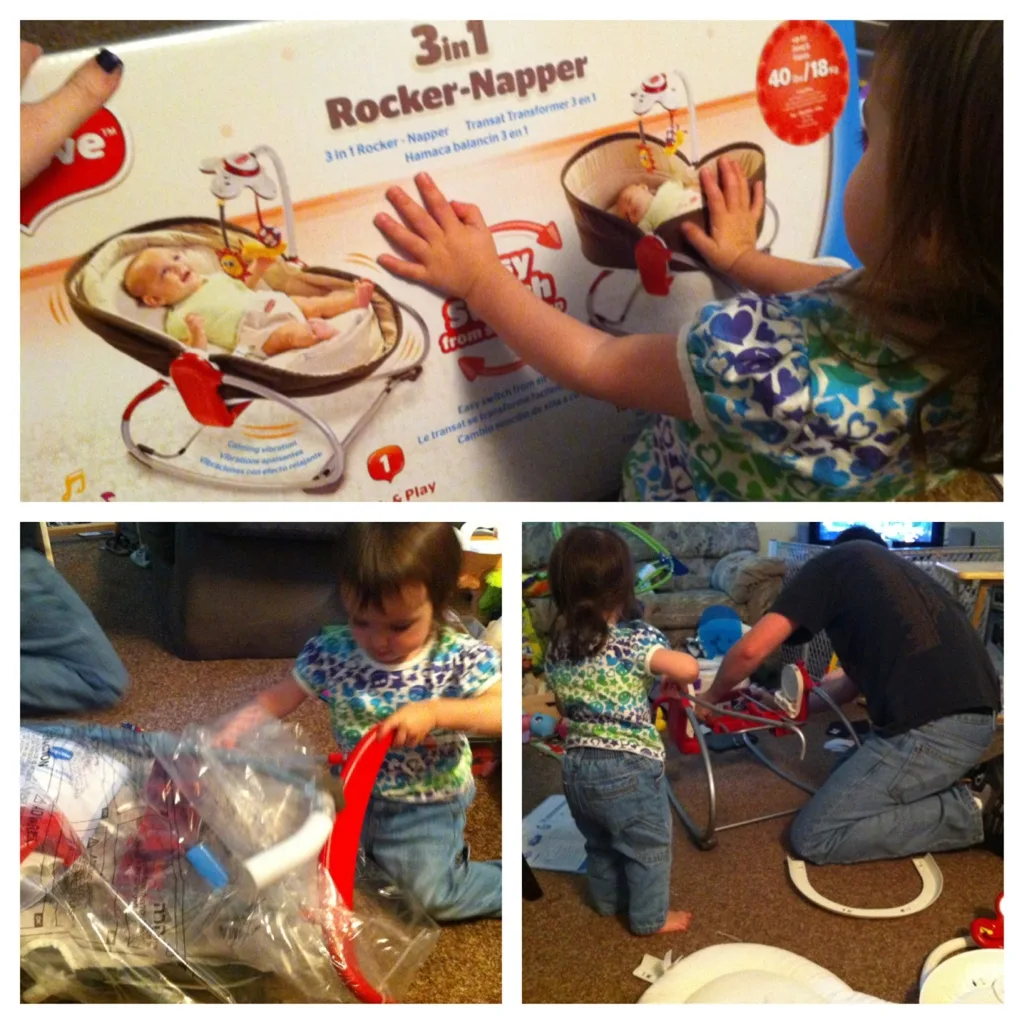 I was a little overwhelmed at all the pieces as we unloaded the box, but it wasn't that bad. Brian mostly put it together while Rissa handed him parts and I supervised. I really should start video recording assembly of gear! The instructions themselves are a little confusing. There are pictures of each step on one page, then the next page has written instructions. I'd love to see the pictures accompany each written step so one doesn't have to keep flipping back and forth. Slightly larger pictures would be helpful too. The company does have a video demonstration of how to assemble this product!
Once it was together I liked how sturdy and stable it seemed. The toy arm is also easy to move out of the way or even remove completely. No worries about bonking baby's head on a toy bar!
2 – It grows with baby so it can be used into toddlerhood.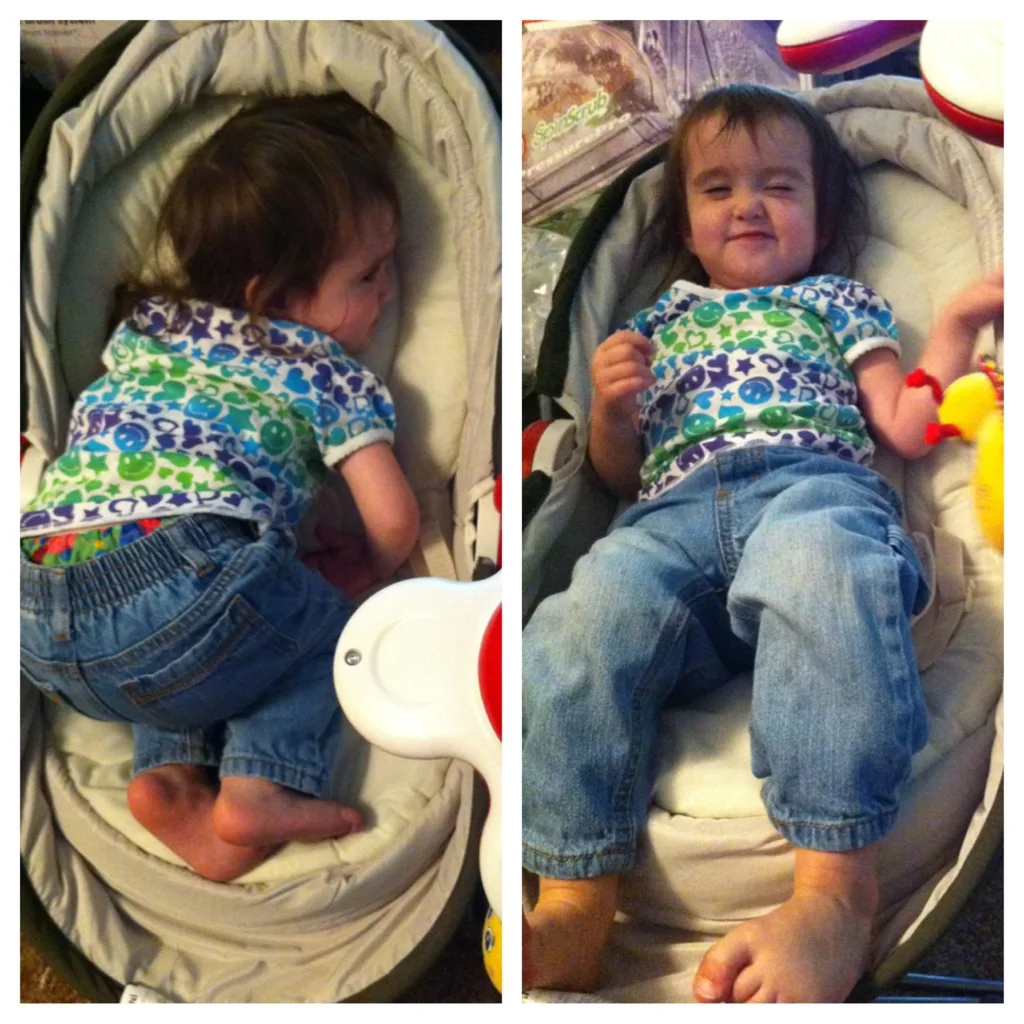 This piece of baby gear reclines back for sleeping but can also be set up for rocking play or just sitting. Depending on how you flip the legs out the seat will rock or be stationary. There is a vibrating setting for calming baby too. This used to help when Rissa was fussy. The first two setups are for little ones only and shouldn't be used beyond 20 pounds.
For us, that meant Rissa just outgrew that a couple months ago since she's so petite. In the picture above she curled up to pretend to sleep then flipped over for me. It is in the sitting position for her in both photos since the regular sitting position is safe up to 40 pounds! I love that now both kids will have their own rocking seat.
And my #1 reason – Easy to switch from sitting to sleeping ONE HANDED!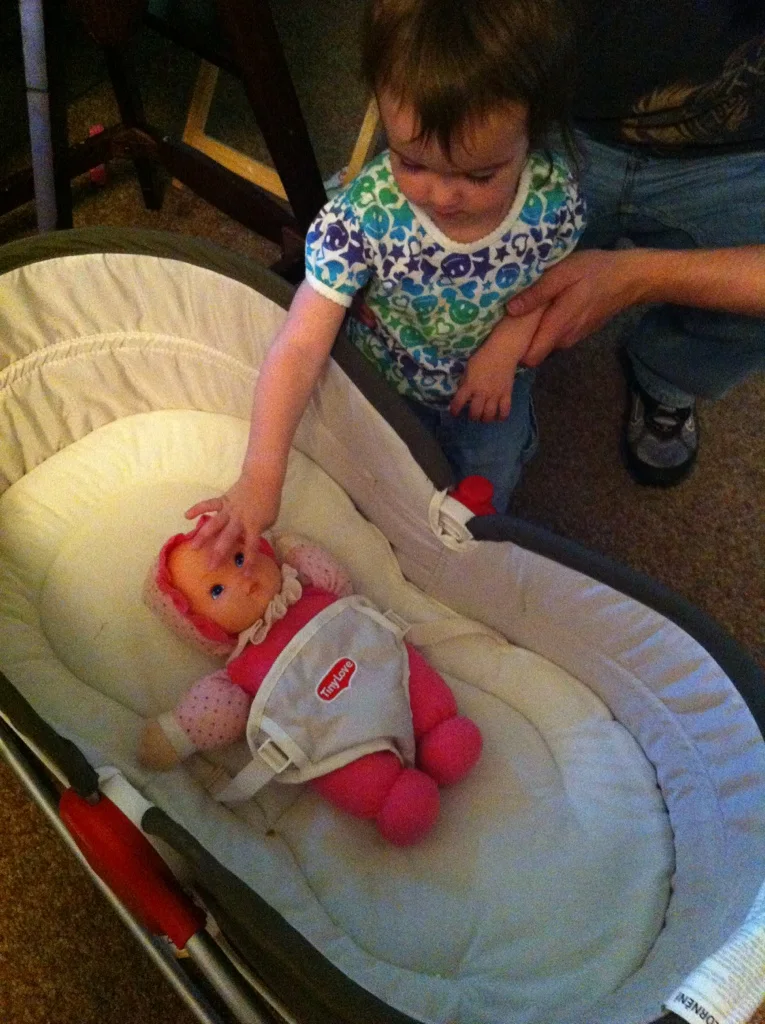 I'm going to see this kind of scene so soon!
Rissa let me borrow her baby doll to demonstrate the napper. I like how roomy it is, the padding offers comfort, and it is secured so it doesn't lift up. There is an easy slide switch handle behind the head that converts it from sitting to sleeping with just one hand. (and vice versa!) The rocker my daughter used didn't lay as flat as this one and required two hands to adjust. If she started drifting off while sitting up, I often roused her awake in accident trying to lay her back. Once she was awake I needed her out of the chair to sit her back up or a third hand to assist me. Yes, Tiny Love wins big time on this feature!
Once baby #2 arrives, I'll be sure to update you on how he likes it! I think he'll like it as much as I do…
Great baby shower gift idea! This is currently available in brown and now red too. You can order a Tiny Love 3-in-1 Rocker Napper today on Amazon!
What do you look for in an infant/toddler napper seat?
Connect with Tiny Love at TinyLove.com, on Twitter (@TinyLove_USA) and on Facebook.com/TinyLoveUSA!
______
Disclosure: I received this product to review – no other compensation was provided. As always, I'm sharing my honest thoughts about this baby gear!