"Mom, can we live at Cedar Point?" asked my daughter at a rest stop on the way home. She made such a fuss about it the lady in the stall next door wanted to know more about it! That is just the beginning of why I believe Cedar Point Amusement Park is perfect for kids!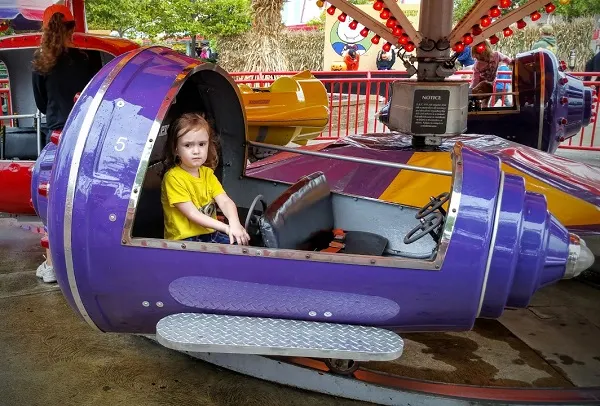 A few years ago, I took my kids on a family vacation that sounded like a fantastic time, except my kids hated it. The park wasn't as kid-friendly as I thought it would be, and my daughter was terrified of practically everything. All my kids wanted to do was stay in the hotel room.
I felt horrible. I also beat myself up about it because it wasn't exactly a cheap vacation.
After that experience, I learned a new way to evaluate potential family travel destinations. It also gave me insight into my kids' personalities and how to factor those for future vacations.
The decision to take a family road trip to Cedar Point in Sandusky, Ohio was not made lightly. I was a little concerned about the eight-hour drive from outside of Milwaukee, Wisconsin, but figured it was doable. I wanted to attend Bloggy Con, a blogging, and social media conference, that took place at Cedar Point. Hitting up the park without my family did not sound fun – they had to travel with me!
I read through all of the information on Cedar Point's website and talked with people who spent time there before. I needed confirmation that they weren't simply KID friendly, but LITTLE KID friendly. I needed to know there were rides both my three year old and my five year old could go on.
5 Reasons Cedar Point Amusement Park is Perfect for Kids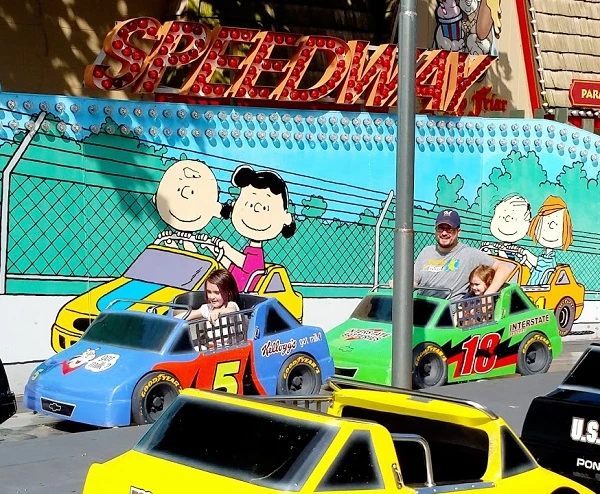 1 – Lots of kid rides. There are four different kids areas throughout the park. My kids could go on some of the rides by themselves and some required an adult with them. It was nice having a mix of kid rides and family rides. Everything is clearly marked regarding height requirements as well as thrill scores.
Even though Cedar Point is the roller coaster capital of the world, my husband and I did not go on any of the adult rides during this trip. They do have a parent swap, but we focused on riding with the kids. They do have Woodstock's Express which is a good way to introduce kids to roller coasters. I think my son's favorite was the Snoopy bounce house, though he had a blast on every ride he went on.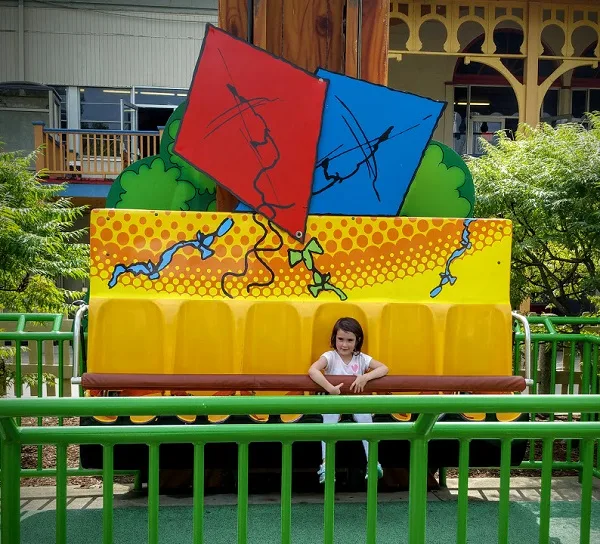 My daughter was more adventurous than I expected. She bravely tried rides I never thought she would go on like the Kite Eating Tree. It's the perfect introduction to those giant drop type rides.
2 – Short wait times. Now, this may vary during their busiest season. We went mid-September and the kids rides had minimal wait times. I think it helps that there are a variety of kid-friendly rides throughout the park, so families are not all concentrated in one spot. No matter how awesome a ride is, it's hard for little kids to wait. I know waiting patiently is a skill they need to learn, but amusement park lines are tough. The longest line we were in was for Antique Cars, a family ride (and it wasn't that terrible of a wait). Overall, the park wasn't as crowded as other popular parks.
3 – Plenty of food choices. We ate in hotel restaurants and inside the park. It wasn't hard to find something for everyone! They do offer meal plans, but we did not purchase one. We may look into getting one next time. I do wish it was OK to bring small snacks in for the kids, but it was an easy walk to the hotel when we needed a break.
4 – Live Shows. We saw a few live shows in passing and missed the Great Pumpkin Parade. It's nice having a variety of activities available and to see Snoopy! Since we attended during HalloWeekends, we saw plenty of crew members dressed up and getting into mischief around the park. There was a zombie who kept the kids entertained while we were in line for the Antique Cars. He would dance around, make faces at the kids, and follow behind random people until they turned and saw him.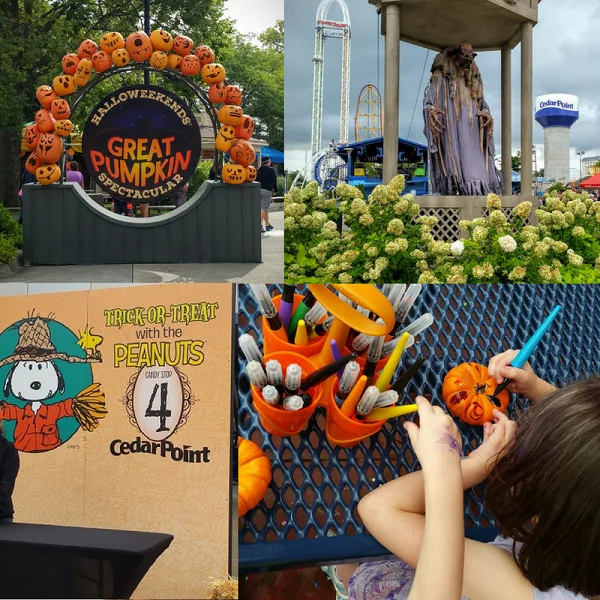 5 – Fun special events. Attending Cedar Point Amusement Park during the summer would be fun, but we had a blast experiencing HalloWeekends. During the day, the park is scare-free and family-friendly. There are scary areas in the evening, but we did not go into the park that late. The kids participated in a variety of The Great Pumpkin Fest activities though, such as trick-or-treating, decorating pumpkins, a corn maze, and the mummy bubble pit.
Final verdict:
I'm thrilled to report that my kids LOVED Cedar Point. Our short family vacation was fantastic and we can't wait to go back. We thoroughly enjoyed staying at Hotel Breakers, which was the first hotel built in that area. Hotel Breakers provides easy (and early) access to the park and has a nice beach area along Lake Eerie. We plan to return there, but we won't be moving to the park despite my daughter's request!
More posts on family travel: