When I was little I thought it was awesome to give my mom gifts that "Mom" on them, like she needed reminding. (Though I felt the same about gifts for Dad!) As I moved through my teenage years, I started looking at all the mom jewelry as being completely corny. Just how many pairs of earrings, necklaces, rings, and bracelets does a mother need to remind her about her children?
Lots.
So far the few pieces of mommy jewelry that I own are ones I picked out for myself, but I treasure them. I don't wear them as often as I'd like for fear of something happening to them, but when I get a chance to dress up a little bit I definitely get them out. I can only imagine how much I'll treasure gifts that say "mom" or have birthstones of my kids when my children are the ones gifting them to me (even if it's with the help of dad).
I like those reminders, especially if I need to be away from my family.
No longer do I think they are corny. Oh no, now I know why there's such a market for them because they really do hold sentimental value. They really are thoughtful gifts in a way I never could understand until I became a mom myself. Granted, not all women will share these feelings, but I think a lot of us do… at least secretly.
Last year I received a lovely mother's bracelet from Belly Charms with my daughter's name on it. With adding to our family, it seems only fitting that I add some more jewelry to commemorate my family, right? At first I had a hard time deciding. Since I don't know which month baby boy will be born in for sure, I didn't want to include birthstones. We are like 99.9% sure on his name, so I figured I could get his name or initials without a problem. Although Rissa's name is on a bracelet by itself, I didn't really want to get one with just his name – I wanted something that included both of them. (I think I'll pass Rissa's original bracelet on to her when she's a little older!)
With the help of Sonya, the woman (and mother!) who owns Belly Charms, we designed a beautiful personalized bracelet that features the initials of both of my children. Since his birthstone is still uncertain, we decided to accent his initials with blue and my daughter's with pink. I think it is absolutely gorgeous and will give you the first clue to his name (since I'm not telling until he's born!)…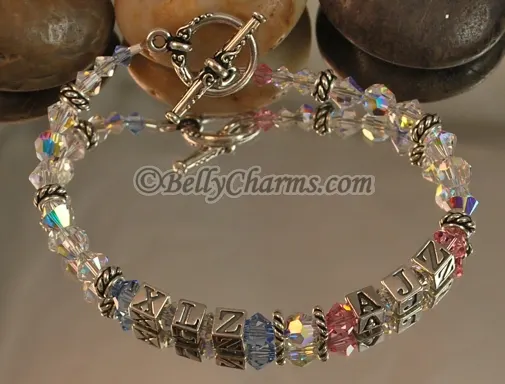 I want to wear it around SO BAD, but I'm waiting until he's born. For some reason it doesn't feel quite right until I have both my babies by my side. Of course, this means if we do decide on baby #3 I'll need another upgrade!
What are your thoughts on personalized family jewelry?
______
Disclosure: I received this lovely bracelet for review. No other compensation was provided.