When I was little I used to love following my mom around the grocery store with those little kid-sized shopping carts. I also remember playing "shopping" and "house" with my own cart and fake food. My pretend food pieces were shaped like known fruits and veggies but the similarities stopped there. They weren't even always colored correctly (do you eat anything that's hot pink?).
Rissa enjoys pretend play and we definitely like to encourage imaginative play. She's still learning how to do it the way I remember, but she's just barely 2 years old. Sometimes I feel like I have to show her how to do it "right," but then I remember there isn't a right or wrong way for her to play. I mean, if she wants to boil her foam letters on her play kitchen stove and put the toaster in the refrigerator, who am I to stop her?
Sometimes I feel bad because I think pretend play is way more fun than the real thing. Right now, Rissa thinks it's fun to pretend to cook, put away dishes, sweep, and grocery shop. But someday she'll be an adult and grumble about the prices. Then eventually she might have a toddler like herself to chase around who destroys the shopping list before she can actually get everything.
Okay, so maybe real adult life isn't that horrible, but I do think playing house and store is more fun as a kid. Rissa wants to help at the grocery store but she's a little too grabby and tends to dart off, so I'm not able to let her be as free as she'd like. She does make a good helper at home while putting away groceries though!
To make playing more fun, we received a set of Kids' Reusable Shopping Bag with Fruits & Vegetables from One Step Ahead. Rissa recognizes the items in this set more readily than some of the other play food she has seen. They are colored well and look like the food they represent. The best part is being able to peel the banana and orange and slice up the pineapple and onion. The plastic pieces use hook and loop (think Velcro) to stick them together and easily come apart. It adds another level of realistic play that just wasn't possible with the play food from my childhood!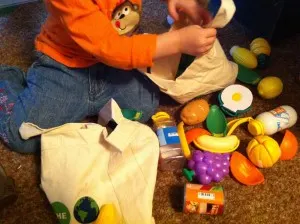 Rissa definitely loves the bags and will spend time loading and unloading them over and over again. For some reason she also likes to put her groceries down my shirt. We are able to use them for learning as she identifies them.
Now if I could just get her to understand that pretend eating doesn't require them to actually go IN her mouth!
_____
Disclosure: We received a set of these toys to review. No other compensation was received.