What I wanted to be when I grew up used to be a fun topic of discussion. Now, it sort of makes me feel like I don't have a solid plan anymore. When I was little I believed I could be anything I wanted to be…. from a circus performer to the President. In college, reality hit that it wasn't quite as easy as it sounded. Despite hard work and desire, other factors can come into play and make it harder to reach that dream job.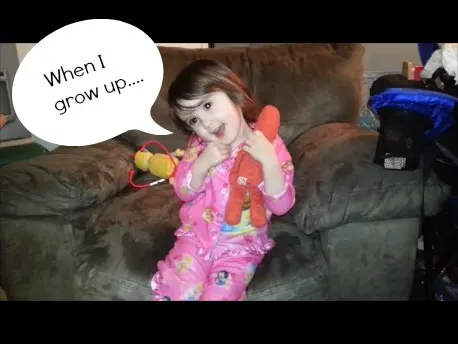 You might be surprised to hear what I wanted to become over the years. And, Rissa let us know what she wants to be. She changed it once the camera came on though!

(Video)
Funny thing is, I was dead set on becoming a lawyer from the age of 8 years old. I laughed at the notion of high school graduates not having any direction in their life. I had it! I was going to be on the fast track to success…
Except I wasn't. After graduating with my Bachelor's degree I did not get accepted into law school. Well, it is pretty hard to become a lawyer without going. I got a little depressed and began job searching. I entered the world of yeah being a case manager and never reapplied for law school. While I said no man would ever get in the way of my dreams, I found my priorities changed. I began to think about growing our family and didn't think the hours I'd have to put into a law career would be conducive to a new, fledgling family.
So, here I am – a stay at home mom with a college degree and not sure what I want to do with the rest of my life. I mean, I won't need to stay home forever. I have several interests and passions I'd like to pursue (including being a doula), but it seems like the universe keeps pushing me back towards writing. Now I'm searching for ways to make that a viable career option for me. Not just writing like a book, but utilizing my online skills from blogging and hanging out with people on social media.
I'm sort of glad Rissa didn't say she wants to be a blogger!
What do you want to be when you grow up?