Oz the Great and Powerful is the perfect storm of beautiful imagery, humor, drama and action. Brian and I attended a local screening in 3D and really enjoyed it. We went in with high expectations and figuring we'd be pleased. Honestly, I wasn't a hard sell on this, but I'm still going to explain to you why I liked it.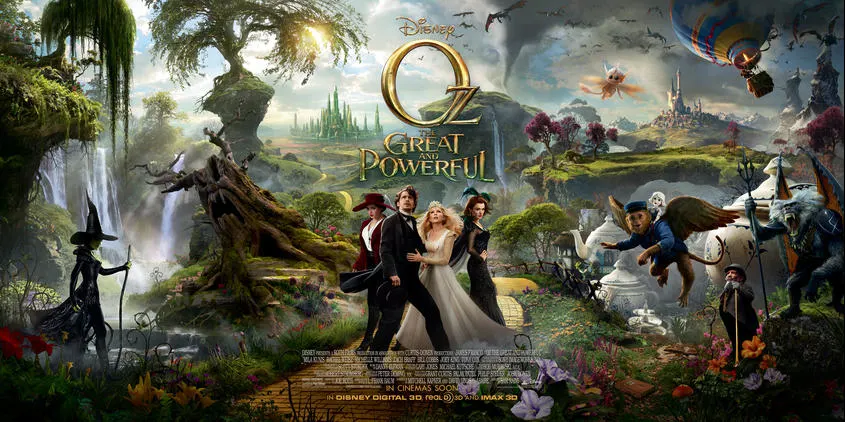 Without giving you any spoilers… the movie starts out in Kansas where Oscar "Oz" Diggs(James Franco) performs his magic show as part of a traveling circus. He's a bit of a ladies man which gets him into trouble. Oz winds up in a hot air balloon that whisks him away to the Land of Oz a la tornado. Once there he meets a witch who thinks he is the wizard from a prophecy. Ever the con man and interested in pretty ladies, he goes along with it.
His greed pushes him forward to agreeing to destroy the Wicked Witch. Oz hopes to con his way through, but along the way meets a few unlikely characters who touch his heart such as a flying monkey and a China Doll. Using his knowledge of illusions and slight of hand, he fights alongside the good people of Oz to reclaim their land and escape the reign of terror under the Wicked Witch.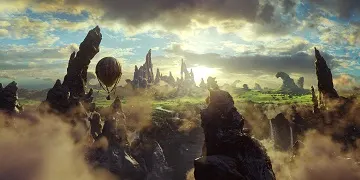 It's beautiful! The most striking thing about this film is the scenery and use of color. It is absolutely gorgeous. The transition from black and white to color (you were expecting that to happen, right?) is subtle and well done. I almost missed it as it started. The 3D effects added depth to the scenery and made me feel like I was in it. I flinched and ducked a couple times (then felt silly afterwards).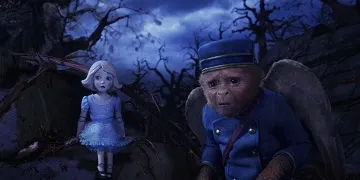 It's funny! Franco has been in plenty of comedic roles, but his monkey sidekick, Finley (Zach Braff) provides great comic relief. The banter is family friendly too.
The subtle connections to the Wizard of Oz. I know the books were out long before movies were made, but you have to wonder about filming prequels – especially with better technology than the previously released film. My ears perked up at hearing the "Gale" surname and I laughed when Oz called a running lion a coward. Up until now, I've only known Dorothy's story. (I really need to read the books.)
Love, conflict and action. While the love lost and a woman scorned bit was pretty typical, it played out naturally. I knew who the Wicked Witch was before the reveal, but it was captivating to watch it unfold. I kept hoping she'd figure out the truth before it was too late, but … The pace of the movie was good too. I never felt bored and the time seemed to pass quickly.
I think James Franco did a great job and it's awesome that he now has his own star on Hollywood's Walk of Fame!
Age recommendation – I would suggest ages 7/8+ if going to see it in 3D. A few parts may be a little more scary coming out at a young child. There are themes of magic and violence, but there is no blood. Threats and talk of killing and death but you don't watch anyone actually die. Otherwise 5/6+ is probably fine – but you know your children best!
Rated PG
"Disney's fantastical adventure "Oz The Great and Powerful," directed by Sam Raimi, imagines the origins of L. Frank Baum's beloved wizard character. When Oscar Diggs (James Franco), a small-time circus magician with dubious ethics, is hurled away from dusty Kansas to the vibrant Land of Oz, he thinks he's hit the jackpot—fame and fortune are his for the taking—that is until he meets three witches, Theodora (Mila Kunis), Evanora (Rachel Weisz) and Glinda (Michelle Williams), who are not convinced he is the great wizard everyone's been expecting. Reluctantly drawn into the epic problems facing the Land of Oz and its inhabitants, Oscar must find out who is good and who is evil before it is too late. Putting his magical arts to use through illusion, ingenuity—and even a bit of wizardry—Oscar transforms himself not only into the great wizard but into a better man as well."
_____
Disclosure: We attended a screening in order to review this movie. All images are courtesy of Disney Studios.