Having a winter baby myself, I know what you need for a baby in winter and wanted to share with you.
Babies need basically the same things no matter when they are born, but there are a few great must-have items that will make the colder months easier for you to manage.
If you or someone you know is preparing for a new baby, you'll also want to check out our new mother checklist.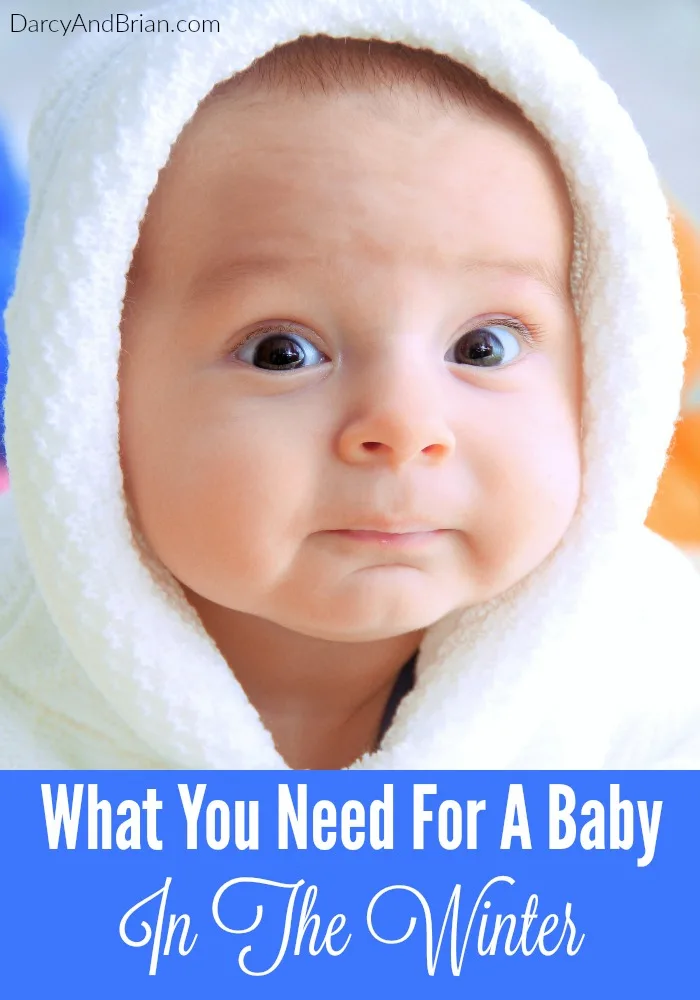 This post contains affiliate links. As an Amazon Associate and a participant in other affiliate programs, we earn a commission on qualifying purchases.
6 Things You Need For A Baby In The Winter
Easy to layer clothing
Onesies, pants, socks and sweaters are some of the things you need for a baby in the winter. While one piece rompers and dresses may look cute, they are much harder to layer for added warmth.
If going outside for a walk or planning to be in and out of a car a lot during winter months (while shopping), it is smart to make sure you dress your baby in easy to layer items.
Carseat and stroller cover
Hands down when you want to know what you need for a baby in the winter this is on top of the list.
A simple cloth car seat or stroller cover and snugly fit over the top while offering plenty of room for the baby, yet protecting them from the cold sharp wind.
This can also come in handy when it is snowing or raining.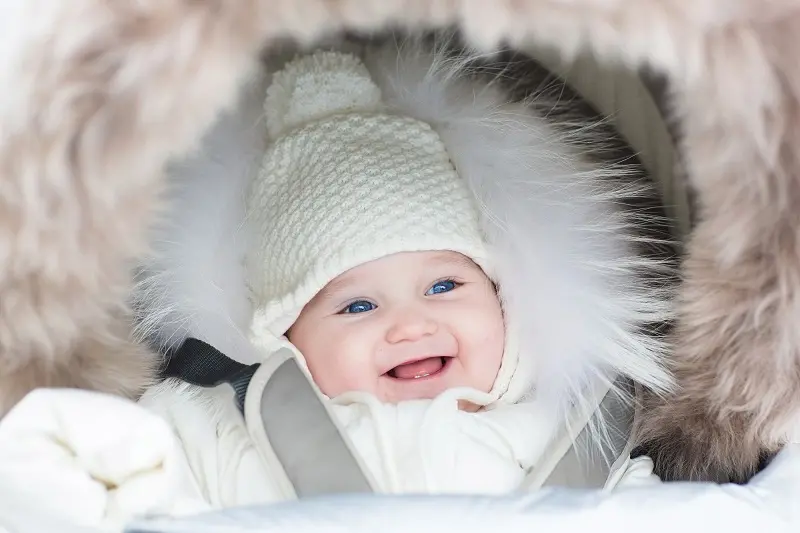 Quality moisturizer safe for infant skin
Cold winter weather definitely tends to dry out the air. The result is your baby may have drier skin than normal.
A baby safe moisturizer is a great idea to slather onto their skin a few times a day.
Babies love gentle massage, and this is an excellent thing to do post bedtime bath or right before they go to sleep for the night.
A humidifier
A humidifier is definitely on your list of what you need for a baby to battle the cold winter air.
Dry nasal passages due to lack of moisture in the air can be very uncomfortable for your baby.
There are tons of great humidifiers, but for use in the nursery we love the Crane Humidifiers.
Various blankets or layering
While you think heavy blankets are best in the winter months, babies can get overheated easily.
Instead of heavy blankets, choose lighter weight options and layer as needed. This makes it easier for you to remove a blanket and still keep them safely warm but not too hot.
Hats and mittens
Even if you are just traveling a few feet, a good hat and pair of mittens is vital to keeping your baby warm.
There are a number of options for fitted beanie style hats or sweaters with hoods to keep their heads safely covered. Baby mittens are tough to size exactly but are still better than leaving their hands open and exposed.
I am happy to share my personal experience with what you need for a baby in the winter months, but I can't forget to mention one very important car seat safety consideration.
Never put your baby into their car seat wearing a jacket or coat. Instead, put them in and buckle their car seat in just their regular clothing, then cover them with blankets for extra warmth.
This can be the difference between safety and fatality in a car accident, and is a very simple thing to change in your routine to protect your child.
More Parenting Tips: