Never wait two hours into a road trip before double checking someone has the tickets.
"You have the tickets, right?"
Brian and I made plans to take a road trip to Six Flags Great America in Gurnee, Illinois. We both had been to that amusement park several times in the past. I can't remember now if anyone else met us there that day or not.
What I do remember is discovering neither of us grabbed the tickets until after we crossed the Wisconsin-Illinois border.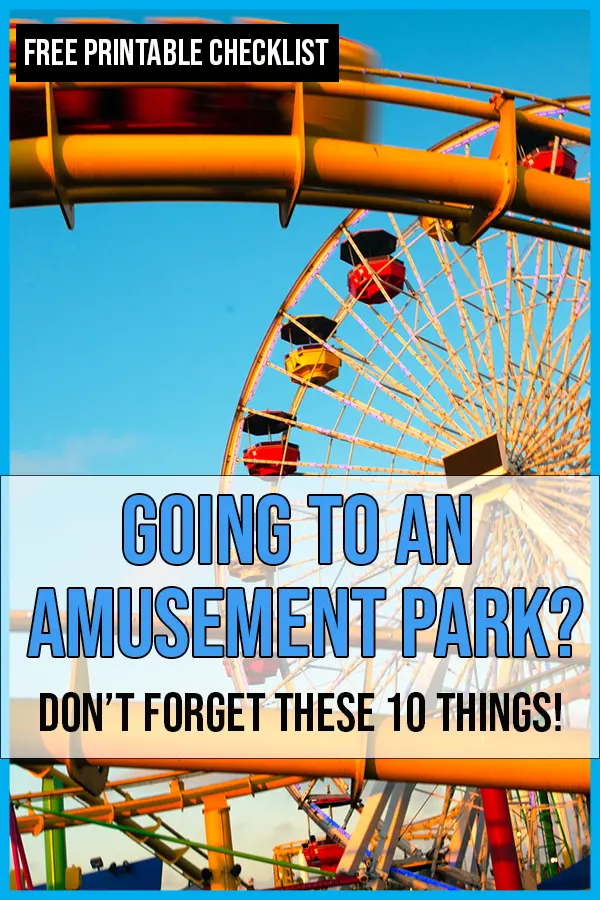 This is certainly one downside to purchasing your tickets before arriving. Of course, we saved money with a discount or something, but it didn't do us much good without the tickets in hand.
I didn't grab them because I thought he had them.
Brian thought I had them.
No one bothered to ask, which is why I annoyingly ask and check a gazillion times before we leave the house now.
RELATED: 8 Amusement Park Safety Tips for Families
We were too far to turn around and get them. A decision had to be made: do we turn around and stay home or do we buy new tickets at the gate?
Back then we were kidless, so planning impromptu road trips weren't that difficult. We decided to go to Great America, buy new tickets, and use the ones we forgot on another weekend.
So, pre-purchased theme park tickets are a must-have, but what else should you bring to an amusement park?
10 Must-Haves to Bring to an Amusement Park
This post contains affiliate links which means we may earn a small commission if you make a purchase.
Going to a theme park is exciting and if we are honest, it can get expensive if you don't come prepared. One of the reasons many people spend more than they intend at theme parks is not coming prepared in the first place.
The little shops in the park know people will forget certain things they need and tend to charge crazy prices since they know you are desperate.
If you don't want to fall victim to this, being prepared is very important, so here are some ideas on what you should pack for a trip to an amusement park.
I even have a handy amusement park packing checklist you can print out at the bottom of this list.
1 – Tickets/ID/Spending money.
Learn from my mistake and triple check you packed your tickets! It's also unrealistic to think you won't spend any money while there.
Keep your budget in place by planning how much you can spend on treats or souvenirs. Your ID is always important to have with you.
2 – Sunscreen and chapstick.
Shade is hard to find in most theme parks, so it's important to protect your skin from the sun. Hats and sunglasses are in danger of falling off during rides.
You'll need to pack enough sunscreen and chapstick for the whole family to reapply a couple of times, especially if you are visiting a water park.
3 – Small snacks.
Most amusement parks allow small snacks to be brought in. It's a good idea to have some snacks on hand for you and the kids.
Otherwise you'll spend extra money every time someone says they are hungry. Snacks can also help keep young kids entertained in long lines and prevents your family from becoming too hangry between meals.
RELATED: 10 Delicious Allergy Friendly Snack Ideas
4 – Rain gear.
You don't have to lug around rainboots and big ponchos, but you should pack the disposable rain panchos and a purse sized or compact umbrella.
When rain hits suddenly at the park, not only will the ponchos be $5-$10 each, but they will sell out fast due to most people not bringing their own.
5 – Small first aid kit.
You can buy travel first aid kits for cheap and they are great for taking along with you.
Although the park has a medical station, you may be too far from it with a minor cut that you can treat on the spot if you brought supplies.
Also include over the counter pain relievers, antacids, ointment like Aquaphor, and licensed character bandages for the kids.
RELATED: 10 Different Uses for Aquaphor Healing Ointment
6 – Hand sanitizer and baby wipes.
Hey, chances are you'll encounter sticky messes in amusement parks. You won't always have a bathroom conveniently located when you need one, especially when you go to buy food.
Bring along a small pack of wet wipes and a travel size bottle of hand sanitizer to clean hands on the go.
7 – Bottles for water.
Everyone should have a water bottle that they can refill with water in the park. Many times, you can ask for free ice water at the various stands.
This will not only save you money on drinks in the park, but it will make sure everyone stays hydrated on a long day out in the sun.
8 – Portable charging cell.
You will likely be taking lots of pictures with your phone and possibly using it more than usual. From theme park apps to Instagramming your adventure, you probably will use more battery power than usual.
A small backup charger that doesn't need to be plugged in will give you the boost you need at an affordable price. Otherwise you can also look into charging phone cases or a backup cell phone battery with multiple charges.
9 – Plastic zipper bags.
Even if you aren't headed to a water park, many amusement parks have rides with water features.
If there is a chance you will get wet, protect your phone, money, etc. by keeping it in a waterproof phone pouch or in plastic zipped bag. Yes, like a plastic sandwich bag!
10 – Spare change of clothes.
It's almost a guarantee that one of my kids will majorly spill something on themselves or have an accident or SOMETHING during an all day outing.
I try to remember spare clothes for myself too, because it wouldn't be the first time someone else made a mess on me! Roll all the clothes up together to save space in your bag.
If you don't want to carry these around with you in a backpack or a diaper bag, some parks have lockers near the entrance where you can store items you might need without going all the way back to your car.
Otherwise you could keep a change of clothes in the car. Don't forget a wet/dry bag to store the wet or soiled clothing until you can get it laundered.
Grab our printable amusement park packing checklist!
Know someone who could use this theme park packing checklist printable? Please share this post with them so they can download their own copy.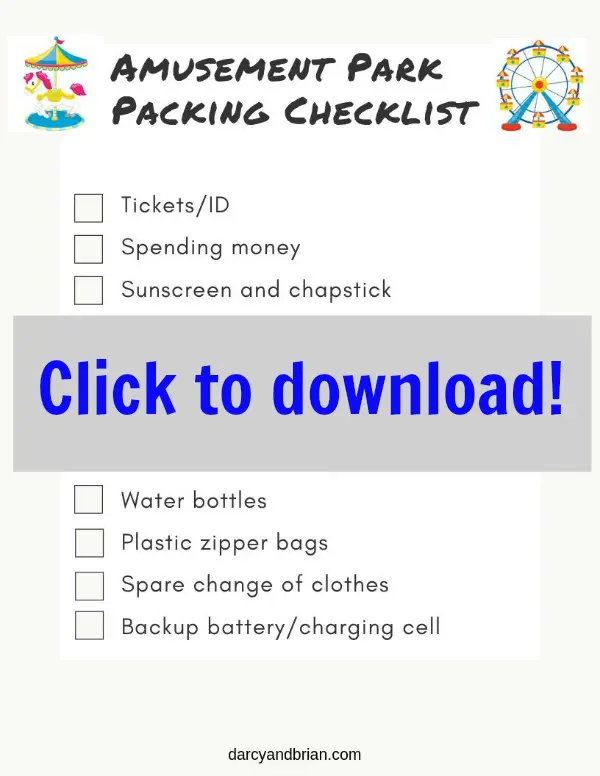 What you should bring to an amusement park may vary depending on the park you are going to, but this list serves as a good guideline to keep you prepared for a fun family outing.
Before you leave the house, remember to ask, "You have the tickets, right?"
What else do you always pack for family outings?
More travel tips:
Family Friendly Activities Near Milwaukee