We were provided Aquaphor healing ointment and other Aquaphor products to try out for our various skincare needs.
So what is Aquaphor used for? I discovered there are several different ways to use it!
Being a mom and living in Wisconsin, my skin needs different care throughout the seasons.
In winter, I battle dry, cracked skin (which can be very painful!).
In warmer months and increased outside activities, I deal with chafing and blisters.
Thankfully, my kids have not had many skin care issues aside from diaper rashes.
RELATED: What You Need for A Baby in Winter
This post contains affiliate links. As an Amazon Associate and a participant in other affiliate programs, we earn a commission on qualifying purchases.
When I was offered the opportunity to try out a couple Aquaphor products, I wasn't very familiar with them.
Before agreeing to test them out, I looked up some information to help me decide. I try to stick with as many natural products as possible for my kids.
After doing a little reading, I was surprised I never heard of Aquaphor before!
Different Aquaphor Uses
It sounded gentle enough for little ones and since it's referred to as "the duct tape of dermatology" because it can be used for so many different skin care issues from mom and baby to athletes… I decided to experience it for myself.
I love when I can find multiple uses for a product, don't you? Like these different ways to use borax.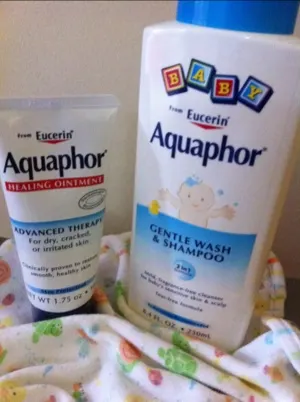 We tried these products:
Aquaphor healing ointment is a dermatologist and pediatrician trusted product that helps protect and relieve dry, cracked skin. It provides effective soothing relief for dry skin and its mild formula is safe for external use on your baby's most delicate, sensitive skin.
Aquaphor gentle wash and shampoo is a pediatrician-recommended cleanser that gently cleanses both skin and hair. Enriched with soothing chamomile and provitamin B5, the tear-free formula is specially designed and clinically proven to be mild enough for baby's sensitive skin.
I liked how easy the Aquaphor baby wash was to use and rinse out of my daughter's hair.
The Aquaphor healing ointment has a consistency much like another well known ointment and goes on clear.
The shape of the tube kept making me think I was reaching for lotion though!
I tried Aquaphor for chafing and hangnails and it seemed to help reduce irritation.
Though I'd recommend using it as a chafing preventative rather than waiting until you chafe to apply it.
I must say I like how these products are fragrance-free and dye-free.

10 aquaphor healing ointment uses:
Lip moisturizer/chapped lips
Hangnails
Diaper rash (zinc-oxide free but I don't know that it is cloth safe – use a liner to be safe)
Minor burns
Minor scrapes
Minor cuts
Baby's neck (especially during major teething drool times)
Chafing (feet/heels, thighs, underarms, etc – prevention and treatment)
Tattoos (protection while healing)
Blisters (prevention and treatment)
….and more!
None of these Aquaphor uses may sound too unique, but once you list it out, you can see just how versatile the healing ointment is for your whole family. Hey, even Beyonce uses it as a secret beauty trick!
Check out Aquaphor on Facebook to hear from fans how they use it and get more ideas! Some of the ideas shared here will be found there as well since I looked there to help cultivate this list.
You May Also Like: