We received a Delta toddler bed and table and chairs set for review purposes. Post may contain Amazon affiliate links.
My little girl is growing up…and transitioning to her own room. It fills me with a mix of emotions from "yay, she's growing up!" to "awww, she's growing up so fast!"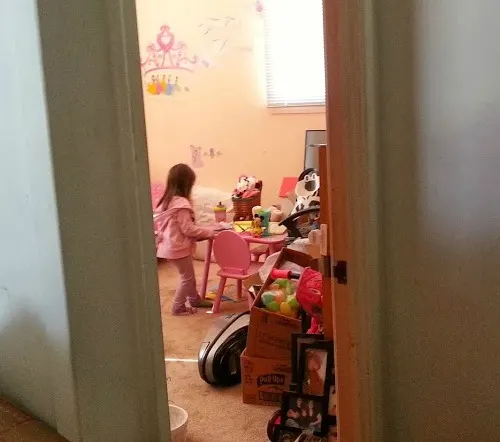 She's really grown up a lot in the past year. She's been going to bed really well and sleeping through most nights. Occasionally she'll wake up crying and need reassurance before going back to sleep. We figure bad dreams are usually to blame. The other day Rissa told me she had a bad dream about Captain Hook eating all the peanut butter. (Don't mess with her peanut butter!)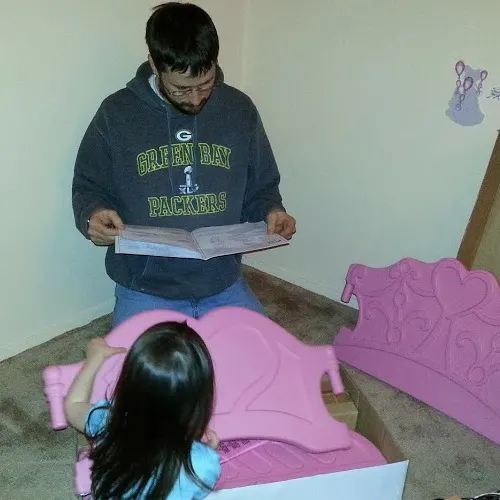 Working on her room has been a process. It was our old computer room and became overrun with storage while the playroom was built downstairs. We've been putting off going through everything in there because…well… it was a daunting task. Plus, it's difficult to work on it with the kids around. But, Rissa has been asking more and more for her own princess bed. Then she even started asking for her room because there are toys she wants to play with that aren't safe for Xander due to small pieces. Separating them during play doesn't go over very well, but she picked up on me saying "when you move into your room…"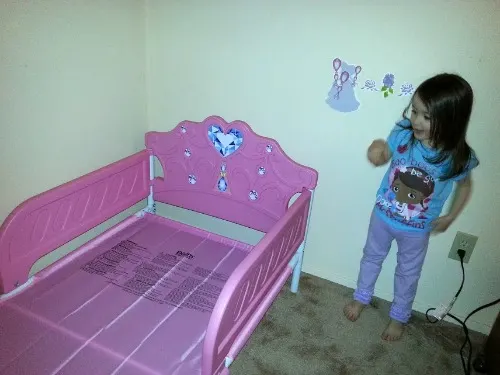 There is more work to be done, like painting, but we all pitched in to sort out donations and things we are keeping. Everything does not have its place (yet) but we put together the Disney Princess Toddler Bed and a Disney Princess table and chairs set from Delta Children's Products. Brian was assigned to assemble everything. He had a few issues with the bed, but in the end was able to get everything put together. I like how low to the ground the toddler bed is so I don't have to worry about Rissa falling off of it. Even though she rarely rolls off the bed, it's still nice. Xander likes how easy it is for him to climb onto it! The crib mattress fits the toddler bed, so we didn't have to buy a new mattress. In a couple years Rissa can upgrade to a twin bed, but we'll worry about that later. For now I like this.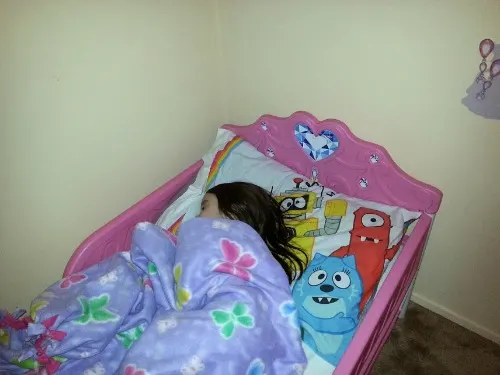 Honestly, the transition has been going smoother than I anticipated. We haven't been pushing her, just encouraging. I think including her in the process of getting the room ready helped. She helped pick out the toddler bed she wanted and put up some princess wall decals (which we need to get more of!). Really she's more ready than her room is, haha.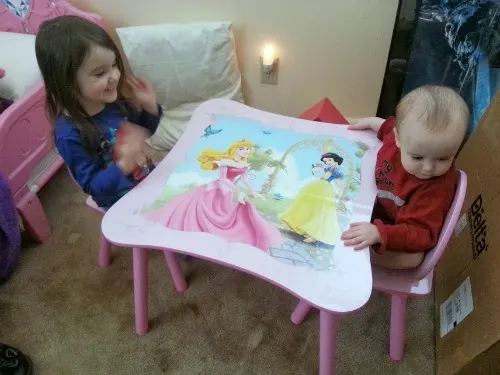 The first couple days she talked about sleeping in her new bed, but didn't want to come bed time. After I let her pick out a new Doc McStuffins blanket, that night she wanted to sleep in her new room. So far she goes to sleep in her new bed but only stays there the first half of the night before she comes looking for us. It's definitely a transition, but it's nice for her to have her own space anytime of the day. She likes to go in there too read, draw or play without her brother bugging her. She is very excited about her new princess table and chair set so she can do art projects and puzzles. The set is a nice wooden one with stable chairs that even Xander liked!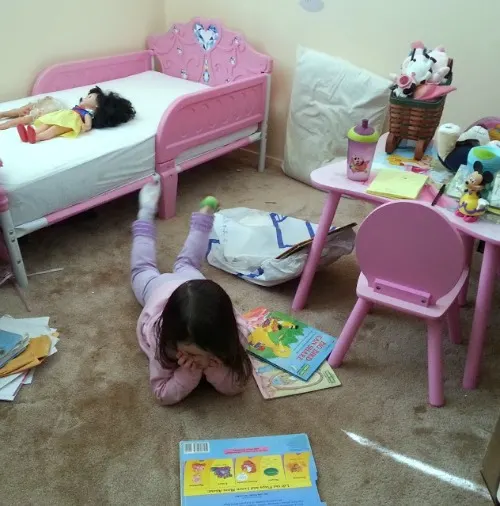 I'm having fun finding things to get her for her new room… even though it's another sign of how much my first baby is growing up!