We eat quite a bit of chicken and I love to switch up what pieces we get. I've developed a preference for certain pieces with certain recipes.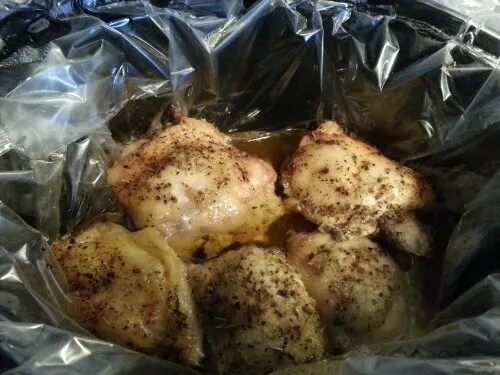 I love the convenience of boneless, skinless chicken breasts, but sometimes I want a thigh or leg. However, the kids are usually entering the witching hour when I would need to prep any chicken to bake. And, well, I don't like having to chase down my toddler while in the middle of prepping raw chicken.
I've cooked plenty of boneless chicken breasts in my Crock Pot before, but hadn't tried cooking any other pieces until recently. We bought a jumbo pack of thighs on sale so I decided to try something new for us. (Hey, maybe I'll learn to cook yet!)
I went for simple and the chicken came out delicious and tender. Fall off the bone tender. Even my daughter liked it! I was surprised how crisp the skin was and was glad it wasn't mushy. I know removing the skin is healthier, but I love it. Yum!
Chicken thighs in the slow cooker
Ingredients
4-6 chicken thighs (I used 5 in my oval 6 quart Crock Pot)
1/3 cup water
Swanson's chicken flavor boost
Olive oil (just to drizzle)
Poultry grill seasoning (or your seasoning of choice)
You could use plain water or swap the water and flavor boost for chicken broth.
Directions
1. Lightly grease or line your slow cooker.
2. Stir water and flavor boost together and pour it in.
3. Arrange chicken thighs on the bottom. I fit 5 nicely.
4. Drizzle Olive oil over thighs then cover with seasoning.
5. Cook on low for 4-6 hours.
It goes great with a side of pasta, potatoes or rice. (Okay, so they go good with anything. Ha!)
This fed two adults and two littles for dinner with leftovers for lunch.