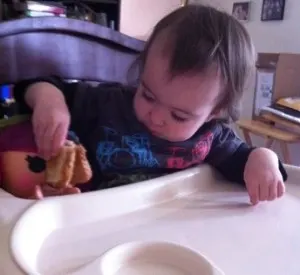 It has been very exciting to watch my daughter engage in more pretend play. She started doing a little bit of imaginative play a few months ago, but it has increased a lot more lately. The ability for a child to play with toys in a way that they represent other objects and actions is a developmental milestone! It shows that they are starting to learn how to empathize with others as well as understanding the roles of different people and objects in their lives.
My daughter's favorite is pretending that objects are phones. It can be a long wooden block, a toy phone, or even a rubber ducky that she will put to her hear and start yabbering away. She will also offer the "phone" to me and put it to my ear. She delights in it when I start to talk into the "phone." She's also started to pretend to wash the dishes in her play kitchen sink. Oh! And let's not forget pretend food.
She still likes to actually chew on some of the food pieces, but she will serve them up to my husband and I and even to the cats. She makes lip smacking sounds and says "nummies." This definitely has made our play time more interesting, and it's fun to see how she reacts to me using objects in the wrong way like a pizza as a phone. Even though she's playing pretend, some things are just too silly and she knows it!
Tips for encouraging pretend play with your toddler
These are some of the things we do here:
Have stuffed animals and dolls of various types and sizes to play with.
Have containers, boxes, kitchen utensils, cups, etc to play with.
Have specialty toys like play kitchens, tool bench, doctor kit, etc.
Have dress up clothes or allow your child to choose outfits to wear. (On occasion I even let her pick out my shirt, which she gets a great kick out of!)
Interact with the toys yourself to show them how to play.
Interact with the objects your child brings to you and use them in the manner THEY are intending (i.e. put the block to your ear and talk, don't build).
Repeat your child's actions out loud to help with language development and identifying their actions.
More tips about pretend play are available here.
One of the newest things my daughter has been doing lately is pretending to feed her dolls. It started out with offering empty cups to her stuffed animals and going "ah!" like they were enjoying the refreshments. Then she started offering play food to her stuffed animals and dolls. She's even put a few of her dolls to my chest to be nursed!
One of her favorite new dolls is the Lalaloopsy Sew Magical Mermaid Doll. She likes to take her into the bathtub. Her hair changes color in the warm water (and when a warm hand touches her head), but the color change is subtle. Rissa likes to pretend her doll, Coral, is swimming around. She helps pat her dry with a towel afterwards and likes to undress her out of her mermaid tail.
Rissa does like to hug and carry her around, but prefers her with no clothes for some reason. Thankfully the head doesn't soak up too much water! Rissa's very into pointing out body parts right now, so she likes to show me Coral's bellybutton (an X) and her eyes. The latest thing has been to sit Coral next to her in her high chair and pretend to feed her real food. Coral does well sitting in the high chair, but her head is top heavy which makes it hard to sit her up on the floor in a circle with the other dolls and animals.
Disclosure: I received a Lalaloopsy Sew Magical Mermaid Doll to free of charge in order to facilitate a review. No other compensation was received. And, as you can see, my daughter had fun playing with her!