Now that my daughter tries to exert her walking independence more, I have to think about safety while in public. Most of the time she still rides in the cart or on my hip, but sometimes I let her walk. Except… she runs and doesn't pay much attention where she is going! I only allow her to do this in stores that aren't very busy and where I am not distracted with shopping. This means Rissa gets to run around at Best Buy and Home Depot while we wait for daddy!
As she gets older and learns to listen better, I will feel more comfortable about letting her down to walk when she wants. Regardless of how busy a public place is, here are some good safety tips to keep in mind from The National Center for Missing & Exploited Children (NCMEC)
Keep children with you at all times while shopping.
Accompany and supervise children in public facilities, including restrooms.
Have a plan in case you become separated, including a pre-designated spot to meet.
Teach children to look for people who can help, such as a uniformed security officer, salesperson or mother with children.
Remind children to remain in the area where they become separated.
Turn shopping trips into opportunities to practice safe shopping skills.
I admit, I've considered a child leash. Overall I don't like them, but lately I've been wondering if they would help my daughter explore without getting separated from us. It's a tricky situation, especially since they are controversial. For older toddlers and preschoolers a walking handle, like Gripsterz, would be appropriate. Gripsterz is a handle with Grippy the monkey on it that kids can hang on to while shopping with their parents (or in any other public place).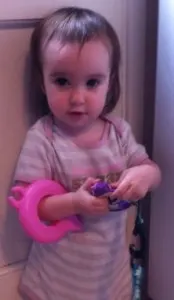 It's not a child leash because it's adjustable belt attaches to the parent that the kids hang on to so they can explore while still being within a safe distance. I like the concept! It'd also be helpful for when mom's hands are full, like in the parking lot after a shopping trip. I remember being asked to hold onto pockets and belt loops when I was a kid, but this would have been easier.
My daughter – at 17 months old – will not keep a hold of the walking handle, so we aren't ready to use it in public yet. At home, if I'm too far away and give the strap a light tug, she just drops it. I'm not able to explain safety yet in a way that will help her stay by my side, but in time this might be helpful for us. She does like the little story book that comes with it about staying nearby.
For more information please visit www.vivevita.com, connect with them on Facebook, or visit Mompact.com. This is a product invented by moms, for moms!