Want to attend a blogging conference but not sure about leaving your baby behind? Good news – there are baby friendly conferences. After attending BlissDom with 4 month old Xander, I thought I'd share some of the pros and cons of having him with me as well as a few tips that worked for me. Take what works for you and apply it and leave the rest.
Pros and Cons of Taking a Baby to a Blogging Conference

(Pros and Cons of Taking Baby to a Conference Video)
Pros:
Baby can be a conversation starter if you need help breaking the ice.

Perfect excuse to go take a nap.

Ensures you'll take time to decompress.

You won't feel as alone.

Easy for others to spot you in the crowd.
Cons:
Hard to attend late night activities.

May need to step out of sessions.

May decrease networking time.

May keep some people from approaching you.

Lots of extra stuff and gear to pack.
Things to Consider Before Taking Baby Along
Is the conference baby friendly? Or offer child care?

Would it honestly be easier to take baby or leave baby with someone else? (For me, it was easier to bring him.)

How much traveling/walking will you need to do between your room and the conference site?

Roommate or no roommate? (I roomed with just X at BlissDom – loved it! I recommend that if you can afford it.)

How old is baby?

Will he/she sleep through most sessions? (Newborn days = sleepy all day!)

Are you comfortable feeding baby in public?

Are you comfortable changing baby in public?

Can you afford to miss a session?

How mobile is baby?

How vocal is baby?

How does baby handle crowds and strangers?
Packing, Planning and Gear
Planes, trains or automobiles?
Depending on your mode of transportation, you may have more flexibility with packing. We flew, so I had to be selective on what I took and juggle it all (plus the baby!) alone at the airport. Overall I found people to be quite pleasant (other than the crew that went around me, cutting in front of me as I approached the security scan point… without so much as an "excuse me" or "sorry." I was one person away from grabbing my bins when people started going around me in line. I couldn't tell they were crew because of their jackets and I ended up asking "if everyone was going to keep going around me?" A flight attendant said "we have to stick together" in a snotty tone. Someone else just said "we're crew." I say, common courtesy still trumps that but I digress…).
I tried to keep in mind the times we were flying – not when most passengers expect to sleep, not during his fussy time, and around his normal sleep times if possible.
Car seats, strollers, and carriers
I took the Eddie Bauer Baby travel system I reviewed last fall to maneuver through the airport and at the conference. Check the car seat laws of where you are going – most states require a car seat even in taxis except New York – as far as I know. I took the seat without the base because it had an easy seat belt install.
I also took along the (Amazon affiliate link) Boba Air soft structured baby carrier that I received to review. It is thinner and lighter than the Boba 3G (you can read my review by clicking on Boba 3g). The material is nylon like a windbreaker. It folds into itself, creating a little pouch which is perfect for traveling. I would rotate through X in the travel system, on my lap, wearing him (especially for getting him asleep), and others holding him. You can see me wearing him while tossing pizza dough at BlissDom!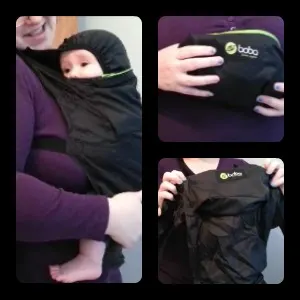 Overall I liked the Boba Air for traveling because it took up way less space than our other carriers. Since it has less padding, though, I found it to be less comfortable than the Boba 3G. I wouldn't recommend the Boba Air for long or frequent use, but for shorter periods of time and traveling – definitely. It's perfect as a spare carrier you can keep in the diaper bag or glove compartment too.
Packing
Pack what you need plus a little extra, but try not to go overboard. I am notorious for NOT packing enough underwear and socks so I do my best to pack a couple extra of those now. For Xander, I packed enough diapers for every day of our trip plus one (though I miscounted and took more than enough!), extra wipes, and 2 outfits a day. I know he spits up enough that I often have to change his clothes at least once a day. I took a couple extra shirts for me for the same reason. (Thankfully those big spit ups always happened in the room!)
I took minimal toys and toiletries, my laptop, business cards, a notebook, my portable New Trent battery charger and… forgot to save room to bring new things home! (Thank goodness Extra Space Storage shipped a box home for free as part of their BlissDom sponsorship!)
I only packed carry-on luggage. I felt dealing with checked luggage was too much on that trip so I crammed EVERYTHING into my (Amazon affiliate link) Targus laptop backpack – best laptop bag I've ever bought! – (stowed overhead) and my Amy Michelle cross-body diaper bag (stowed under the seat). Since X is under 2 years old he could fly for free in my lap. Flying in his car seat in his own seat is the safest option, but I knew I'd be holding and nursing him most of the time anyway. The travel system was gate checked for free.
Tip for packing clothes: roll them! You save so much space that way – that's how I packed for 2 adults and a toddler into one suitcase and 4 carry-on items for our 5 day trip to NYC for BlogHer last year. It's also how I packed for BlissDom.
The Importance of Flexibility
This one I can't stress enough. You need to be okay with stepping out of sessions so you and baby don't disrupt everyone else. Most of the time X was asleep, nursing or happy, but there were times we went back to the room to chill or walked around outside the sessions.
Have you ever taken a baby to a conference? What was it like for you? What tips do you have to share? Any questions if you are thinking about taking your baby along to a conference?