I thought I'd give you an update on how our playroom project is going. Since our brother-in-law is working on it during his spare time it is not done yet. But! We are getting closer!
You can see how it looks right now in this video (after watching the kids a bit – and don't mind my story about the butterfly release at our wedding!):
So, my focus has turned to decorating. Mainly the floor and walls. We are trying to decide between hardwood floors and carpeting. My vote is for carpeting since the kids will be playing down there a lot. A few of you suggested carpet tiles or foam tiles, which I'm looking into as well. I found some fun ones on Amazon but am sort of clueless about installing them… I don't want them to slide around or be taken apart by the kids.
Something like these (affiliate link) Edu-Tiles would be fun (but maybe too little kiddish? Plus I think these are supposed to be played with. Hmm…)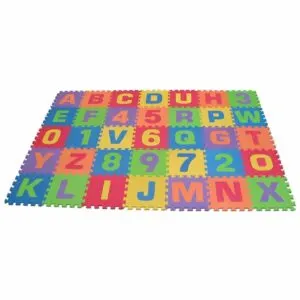 If we stick with hardwood floors, then I'd want a nice, big area rug like one of these (affiliate link) Capel Rugs at Zinc Door (15% off with RUGSALE by 5/14/13).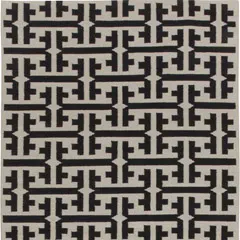 I'm not sure if I should really go with any patterns or not. I don't want stains and such to be glaringly obvious, but I don't want it to clash with the walls either. See, we haven't settled on a color for the walls yet and are thinking about painting one wall like Gabba Land and getting big vinyl stickers of the Yo Gabba Gabba characters. But, it will also be our work space so there's going to be some geekiness added as well.
Ah, decisions, decisions!
I am so not an interior designer.
Oh, and you know my labeling project for our stuff in storage? Well, Brian came up with a great idea to take it one step further – with QR codes. We'd keep inventory of everything inside, which could be viewed when scanning the code. Easy to update and get more specific beyond the general category label. I thought his idea was genius and found out that Mabel's Labels has some called (affiliate link) Scan & Store Labels.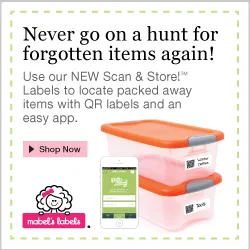 So I thought that was a pretty cool find. (Though he insists he wants to try making his own.)
So any suggestions on flooring and wall color? Wonder if there will be room for any furniture after the toys get moved down there…..