My husband and I are definitely music fans. We primarily listen to hard rock and metal, but we also enjoy some guilty pleasures in other genres too. Before we became parents, we were big concert goers. We are also gamers so we have fun with Rock Band on our Xbox 360. (My preggo belly used to dance from Rissa while I sang!)
One thing we definitely want our children to be are music lovers! I played violin for several years so we also hope they'll want to learn an instrument or two.
Most babies and toddlers like music and dancing, but I don't think it hurts to help encourage them!
Here are some ideas for keeping their interest in music alive!
Expose them to a variety of music styles.. You can start this when they are in the womb by listening to a variety yourself. After the baby comes home, you can play an assortment of lullaby renditions such as those offered by Jammy Jams as well as traditional lullaby music.
Jammy Jams CD – Hair Metal Goes Lullaby
We personally like the lullaby covers of some of our favorite bands. It makes the lullaby music less boring for us, and softens up the crunch of the guitars for baby's ears. The Hair Metal CD is my favorite Jammy Jams album, with Goo Goo Gaga (the Lady Gaga album) a close second!
From in the womb to now at 19 months old, Rissa shows a preference for music with a good beat, especially if there's guitars! She doesn't seem to like slower music too much right now.
Dance with them! whether you are listening to music, watching a show like Yo Gabba Gabba, or you are singing/humming – boogie with your baby! They'll love being held in your arms while you bounce around and spin them around. As your tot gets older, take their hands and shimmy and twist with them. Show them how to twirl for dizzying fun. My daughter likes it when I join her for the special dancy dance move on Yo Gabba Gabba.
Join a music class. Find out if there is a Music Together class in your area or something similar. This can be a great way for little ones to make and listen to music. At our local library's storytime there is music portion each week. The kids get instruments to play while singing and dancing.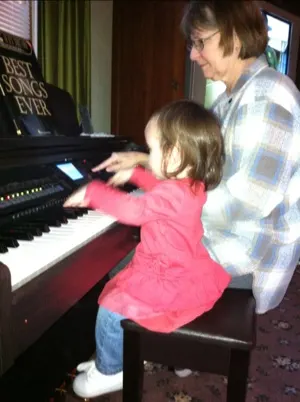 Rissa likes to bang on "dubbies" (drums), play air guitar, plunk piano keys, and SHAKE noise makers like this rainmaker shaker…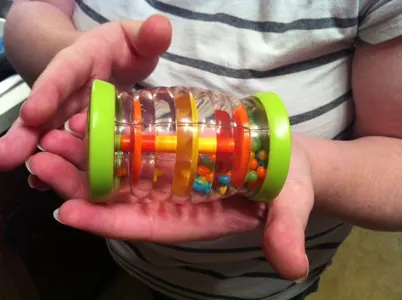 Watch kid shows with music or music videos.. Our daughter enjoys certain kid shows more than others based on the amount of music, such as Bubble Guppies and Yo Gabba Gabba. She also enjoys dancing while we browse music videos on YouTube. This can be a good way to let them hear some stuff that you don't normally listen to as well.
Get creative and have fun! use pots and pans as drums, make an instrument out of a toilet paper tube and wax paper, collect kazoos, use uncooked rice in a small plastic container… Lots of ways to make music at home! And keep it fun! If they don't like a song or instrument, move on and try it again another day.
How do you encourage your kids to enjoy music?
______
Disclosure: We received the Jammy Jams CD and the Music Together Lullaby CD with shaker instrument for review. No other compensation was received. Affiliate links are in this post too.