A nursing pillow is an essential breastfeeding accessory but it can be hard to know which one to choose unless you read nursing pillow reviews. I remember when I was pregnant with my first daughter and so many people told me about nursing pillow I needed to have… so I got it. But, it was not making positioning any easier and I stopped using it. I'm hoping to find one I like better for use with baby #2!
I received the Double Blessings San Diego Bebe Eco-Nursing Pillow to review. It looks sort of large, but has some nice features:
Eco-friendly: foam-free, glue-free, all non-toxic materials used AND it's recyclable!
Soft
Removable piece for a back pillow for mom
Back strap to keep it in place (says it fits up to 51″ waist)
Privacy cover
Pockets for water bottles, remote control or snacks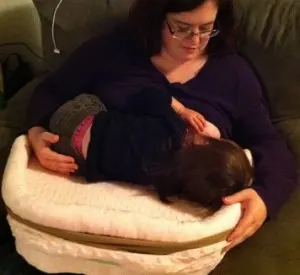 I was very excited to try it out. Since my daughter is petite, she fit on the pillow. She thought it was kind of fun. I liked being able to place the small pillow behind my back for support. That was a must for me when she was a newborn – a pillow behind my back and one under her. Unfortunately, I was not able to latch the strap, so it's not really made for plus sized mamas. Without the strap I had trouble keeping the pillow flush to my body which created a gap. With my toddler that wasn't an issue but with a newborn it possibly may have been.
Other than that, I liked the pillow. The pockets are handy, the privacy cover is easy to use and a nice option since it's not really "on" baby like a blanket or regular nursing cover would be. This would have been nice for tummy time too. The greenness of the materials is a big win in my book too. Now, if they can make some with a wider belly opening and a longer strap for plus sized mamas, it could just about be perfect.
Oh, they do make a larger version made to accommodate twins tandem nursing which is awesome.
_________
Disclosure: Thank you to Double Blessings for sending us a nursing pillow to review honestly. No other compensation provided. Post contains affiliate links.