Here we are at week 15! This little one continues to grow. I can tell by how tight my clothes are getting. I'm still fitting into a few non-maternity pairs of shorts but not any of my jeans!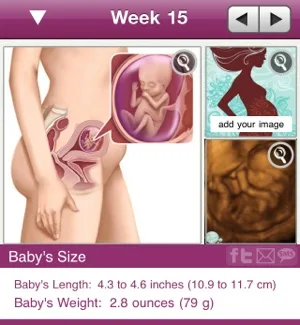 I am keeping track with two pregnancy apps, one by Winkpass which is pictured above. I don't really know why I'm using two. I still like the one I used before and then decided to check out this Winkpass one too, but I'm not using them like I did last time. I put all appointments, tracked weight, blood pressure, heart rate… but lost all that data! So I just like the alerts and reading the weekly blurb only.
Names, names, names! We still have our boy named picked out and I thought we were settled on a girl's name we liked after Rissa joined us… But a few weeks ago I became obsessed with girl names again. I just HAD to spend hours looking and favoriting a bunch to talk over with Brian. I'm not sure why it consumed me so since we don't what we are having yet. (About 5 more weeks before that ultrasound!)
Where did you look for name ideas?