With Rissa, we started out using disposables. I didn't attempt cloth until she was 3 months old, going on 4 months old. Now at nearly 23 months old, it feels like we've always used cloth! I'm not quite sure why I planned on sposies (they are very mainstream, but expensive), but once I knew for sure I was not returning to my job I started researching cloth diapers. We needed to save money where we could!
Plus, I was not happy with disposables. The blowouts were awful. They didn't fit her very well (especially since she was so skinny). Our trash doubled (boy was that sickening). And… I started to worry about those nasty chemicals against her bottom. Mama needed to find a more economical, greener solution.
So, I read and read and read, reached out on Freecycle for some used fluff, and bought a few items of my own. We tried it out on a part-time basis and found it to be just fine. It wasn't that hard and the blowouts stopped. SOLD! I continued to add to our stash and we donated the rest of the disposables we had to various people that used them.
While I think we have a nice sized stash, the majority of diapers are one size and girly in color or pattern. Oops. I strayed away from keeping the stash gender neutral. It's so hard with all the cute diapers out there! While I have a decent amount of neutral dipes, I'm seriously lacking on itty bitty reusable diapers made to fit babies under 8 pounds. That's when most one size diapers fit properly. Judging by Rissa's birth weight of 6lbs 10oz, I'm thinking this baby boy might not be 8lbs when he arrives.
As much as I'd rather invest in more one size diapers for him to wear, I do want to have a few newborn sized diapers too. So, I've been looking a bit at both. I plan to start using cloth on him as soon as I can at the hospital! I'm not worried about his meconium – I can use some liners to deal with that.
I recently received several cloth diaper goodies to try out from Koala Huggerz. They just opened up a few months ago and I was interested in trying them out. So far, I'm quite pleased!
I received an adorable lion AIO that Rissa has been testing for me as well as a totally cute panda newborn AIO for baby boy. Along with the AIOs, Koala Huggerz provided me with a couple inserts to try, but their covers weren't available just yet. That was fine – I have covers!
These are what some refer to as true all-in-one cloth diapers because they are sewn in. I only have a couple AIOs, but those leave the soakers partially unattached for washing and drying. These have a microfleece inner with a bamboo/cotton soaker completely sewn in. So far I haven't noticed them needing too much extra drying time, which is great. I do put them in the dryer though since line drying in my basement did require extra time.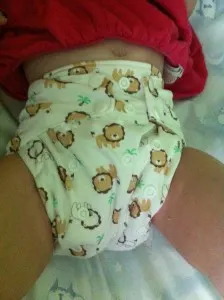 The OS AIO fits Rissa nicely and has been great for day use and even naptime (though she doesn't wet as much during naps as she used to). I love how soft it feels and the bamboo really helps the absorption of the soaker. It came with an organic cotton doubler but I hadn't used it! Our other AIOs are SUPER wet after Rissa goes in them unless I can add a doubler to it. While she was definitely wet when I changed her, she wasn't sopping wet like the other ones we own. The inserts did well when I stuffed them into a pocket diaper too! Since the inserts are topped with microfleece are actually made for laying in a cover, but I like that they also fit my pocket diapers.
So if you are looking for some new AIOs, give Koala Huggerz a try. The OS AIOs are around $25 which I think is decent for an AIO with a bamboo soaker that should fit most babies from birth to potty.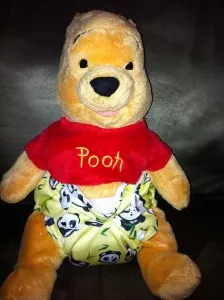 I can't wait to diaper this little baby! (Though Pooh looks cute in it, doesn't he? Rissa likes it when I help her diaper him!)
Did you cloth diaper your newborn? When did you start?
_____
Disclosure: I received the above mentioned cloth diaper products in order to review them. No other compensation was received – all thoughts are my own! You know I love my fluff.