The baby bump is becoming more obvious. And in the way. I can't tell you how many times a day I run into something with it!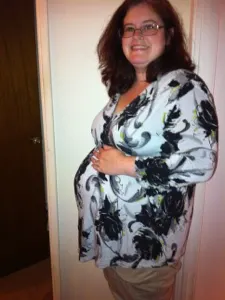 I've only gained a pound and a half, but baby boy weighs around 2lbs according to recent ultrasound measurements. With my daughter I gained a total of 6lbs… Most of that was near the end. He is growing well though so it isn't a concern.
Today Rissa asked where my belly button was. It is flattening out like it did with her. I never got an outie but could pop it out by stretching the skin a little bit. I did that and she giggled. So glad she finds the humor in it!
One thing I forgot about was the gas and heartburn near the end. Oofta my esophagus is on fire. My innards are definitely feeling crowded more and more!
Oh and apparently my OB doesn't think my pelvic/crotch pain I told you about last week is anything to be concerned about. She said things are looser with a second child so, yes, there's more separation in my pelvis. I wish she would have discussed it with me more – asking about the pain etc. rather than blowing it off. I mean, I brought it up because it's bothering me more than just a little bit. Plus, as I mentioned last week, what I read made it sound like something to take seriously.
I suppose if I could barely walk into her office it would have been another matter? (But then I would have been asked why I never mentioned it sooner!). I just hope it doesn't result in serious or permanent damage, ya know?
I'm still overwhelmed by the amount of work overhauling the nursery will be, but am excited to work on it! I have 2 boxes of stuff to donate right now (random stuff) and will be sorting through Rissa's old clothes to sell and donate! I have like 2 or 3 big bins of stuff…it's crazy.
Do you find selling old baby clothes to be worth the time?