Halloween is a fun time of year, especially if you love making craft projects. Having Halloween Decoration Craft Items on hand is a must in our house, as I am sure it is in yours. With so many homemade Halloween craft projects on our bucket list, I always like to be prepared. This list includes many of our favorite items in the craft room that are specific to Halloween themed projects.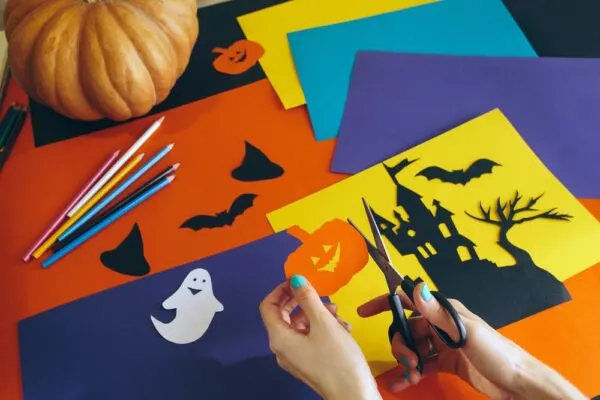 This post contains affiliate links. We may earn a commission if you make a purchase (at no extra cost to you).
Must Have Halloween Decoration Items
Homemade Halloween craft projects can range from the very simple paper crafts to an elaborate display. If the whole family is going to participate in making Halloween decorations, then you should plan way ahead of time and know exactly what items you'll need to create all the spooky critters and creatures that will adorn your home.
Another great thing about making Halloween decorations is that since the colors are the same for Halloween, autumn, and Thanksgiving, you can have a marathon DIY weekend to create all your decorations for the entire fall season all at one time.
Kids and parents alike enjoy spending time creating decorations together. It's a great way to have family time and keep Halloween well within budget. And if you or your children have been invited to Halloween parties, DIY crafts make excellent hostess gifts!
Tools to create Halloween Decorations
** Foam craft pumpkins
** Art brushes
** Craft knife (I prefer the Xacto Knife)
** Decorative edge craft scissors (This Strokes Craft Scissors set has 12 different kinds and has a carrier)
** Dressmaker's wheel
** Foam Paintbrushes
** Hot glue gun and glue sticks
** Kitchen knife
** Hole punch with a heart, star, or other designs (This SiCoHome Hole Punch Set has 20 designs)
** Paintbrushes
** Palette knife or plastic knife
** Paper scissors
** Pinking shears
** Pencils and ballpoint pens
** Rubber mallet
Supplies for making DIY Halloween Decoration
** Acetate film
** Acrylic craft paint (Apple Barrel Craft Paints has a great set that is ideal)
** Cardboard
** Clear acrylic sealer
** Colored construction paper
** Decorative grommets
** Double-sided tape
** Epoxy adhesive
** Flexible jewelry wire (This 5 color jewelry wire set is perfect)
** Foam-core board
** Liquid fabric stiffener
** Magnetic tape
** Masking tape (regular and black)
** Manilla paper
** Poster board (especially black)
** Rubber bands
** Scrap paper and old newspapers
** Sharp-tipped markers
** Snaps (This KAMsnaps Set is great for multiple holidays)
** Spray Adhesive
** Spray matte finish
** Tacking glue
** Tracing paper
** Transfer or carbon paper
** White paper glue


Bonus decoration items for DIY Halloween Decoration Ideas
** Artificial gemstones
** Attachable alphabetical letters
** Battery operated tea lights
** Beads
** Buttons
** Cheesecloth
** Christmas lights
** Craft sticks
** Flat stick-on foamies
** Foam plastic balls and 3D shapes
** Glitter (I love this Color Technik Glitter Set)
** Googly eyes
** Liquid beads
** Microbeads
** Mosaic tiles (This Satinoir Tile Kit has hundreds of small pieces that are ideal for crafting)
** Pipe cleaners
** Plastic bugs and other critters
** Polyfill webbing
** Pompoms
** Preformed cardboard shapes
** Ribbon
** Sequins
** Taper, tea and votive candles
Storing Halloween Decoration Craft Items
It's a good idea to buy either plastic drawer organizers and/or storage boxes to keep all of the common tools and craft supplies you'll be using, all in an easy-to-find place. It's also a good idea to keep specific items in separate compartments or boxes and label them clearly.
Make sure to do your shopping online so that you'll have all the best choices of craft supplies and early so that you'll have enough time to complete your Halloween craft decorations. Remember that many DIY crafts are completed in stages, so it's never too early to start the process.
I hope this list of Halloween decoration supplies and craft items is helpful to you this year as you start planning for the holiday. Check out all of our great Halloween tips and enjoy this favorite fun filled season!
More Halloween Tips:
10 Ideas for Allergy Friendly Halloween Treats
Maleficent Lollipop Covers & Pillow Box Printables for Halloween
Halloween Safety Tips for Your Pets
25 Popular Disney Halloween for Kids and Tweens
20 Spooky Cookies & Halloween Food Ideas
20 Ghoulishly Good Halloween Treats