Are you looking for new ways to entertain the kids while staying home? Or fun, contactless activities they can play outside?
Then you'll want to play laser tag at home with the brand new Laser X blasters. It's such a fun laser tag game for kids and adults too!
Disclosure: We received the new Laser X blasters to review as part of a sponsored campaign All thoughts and opinions expressed are our own.
This post contains affiliate links. As an Amazon Associate and a participant in other affiliate programs, we earn a commission on qualifying purchases.
What is Laser Tag?
Think of it as a contactless game of tag. Everyone has blasters and instead of tapping or touching someone, they need to aim at their receiver. After eight hits in a row, that person is out.
It can be played with teams or every person for themselves! It's a fun game for kids to play together outside, even while social distancing.
All Laser X gear works together which makes it easy for others to join with their own laser guns!
How to Play Laser Tag At Home
Laser X blasters make laser tag for home super easy. You don't need anything fancy or gear beyond what comes in the box. (You will need AAA batteries though.)
First, decide on a location. You can play outside (in your backyard, at the park, etc) or inside the house. I recommend having plenty of room to move around and having places to take cover.
We don't have a lot of room to run around in the house, but we have plenty of places to duck and hide.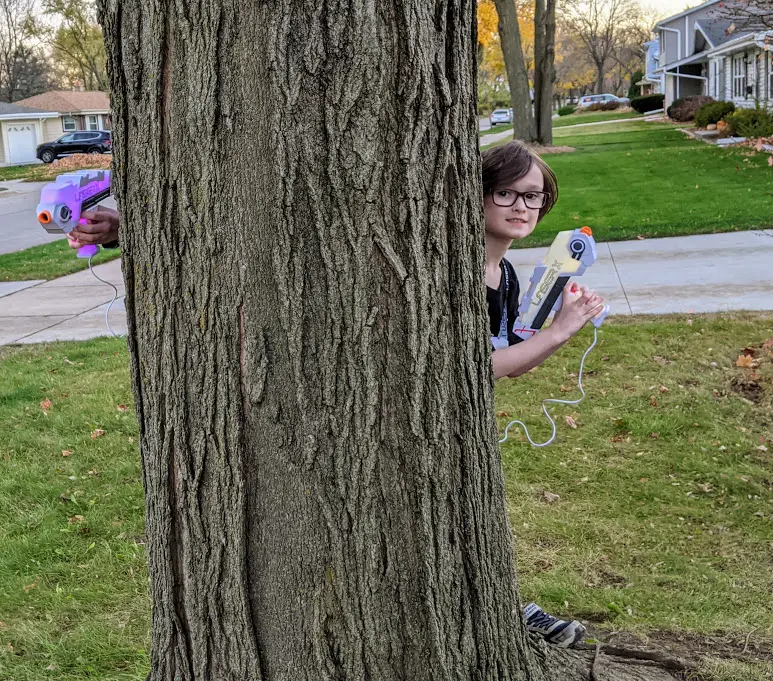 While you can use them during the day or at night, we prefer to play in the late afternoon/early evening. The lights are easier to see then, plus it's not too dark where the kids are tripping on stuff.
Next, decide on teams or solo. The new laser tag sets (Laser X Evolution, Laser X Revolution, and Laser X Micro 2B Blasters) have three settings: red, blue, or other.
The red and blue team settings protect teammates from friendly fire. Everyone on the red team can blast people on blue or other. Everyone on the blue team can blast those on the red team or other.
My favorite is the "other" setting because you get to blast anyone playing! The larger blasters also let you choose any color on the dial.
Finally, try not to get eliminated! Easier said than done, I know. All players get eight hit points. Your receiver is green when your health points are full. Each hit takes it down by one.
The voice coach will warn you when you only have a few hit points left. The receiver will also change from green to yellow, orange, and lastly, red.
When hit points reach zero, the lights on your receiver and blaster will turn off.
It is possible to recover hit points too. You can regain one hit point for every minute you go without getting blasted.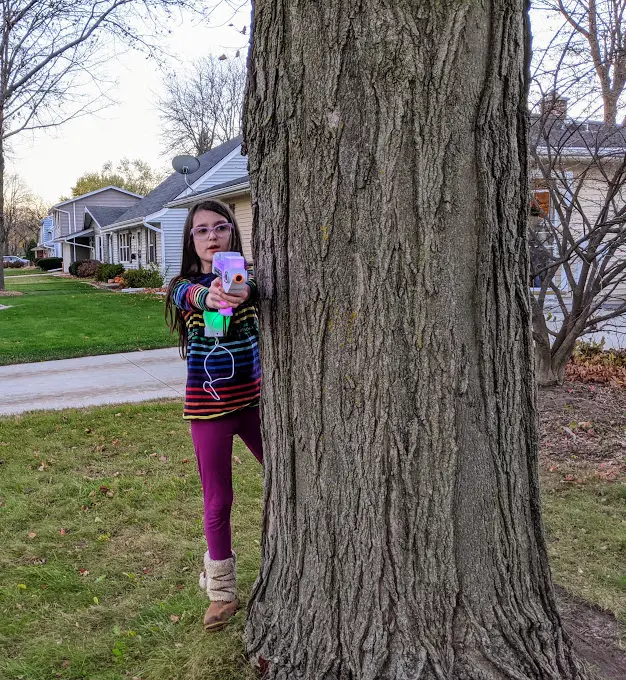 You get to decide how to declare the winner. It could be when one entire team is eliminated, when only one person with hit points remains, or which team has the most survivors after a set time limit.
Or, you can keep the game going and continue playing for the fun of it by reviving players (resetting their receivers) and stop whenever.
Review of the New Laser X Laser Tag Sets
All of these laser gun sets work together, so feel free to mix and match the ones that fit your play style.
Laser X Evolution Blasters
I think the Laser X Evolution set available at Walmart is my favorite. Rather than having a wearable receiver, the receiver is part of the blaster.
It eliminates the need for wearing a sensor and the cord attachment, which I definitely liked as an adult. It also makes it harder for players to hide or cover their receivers.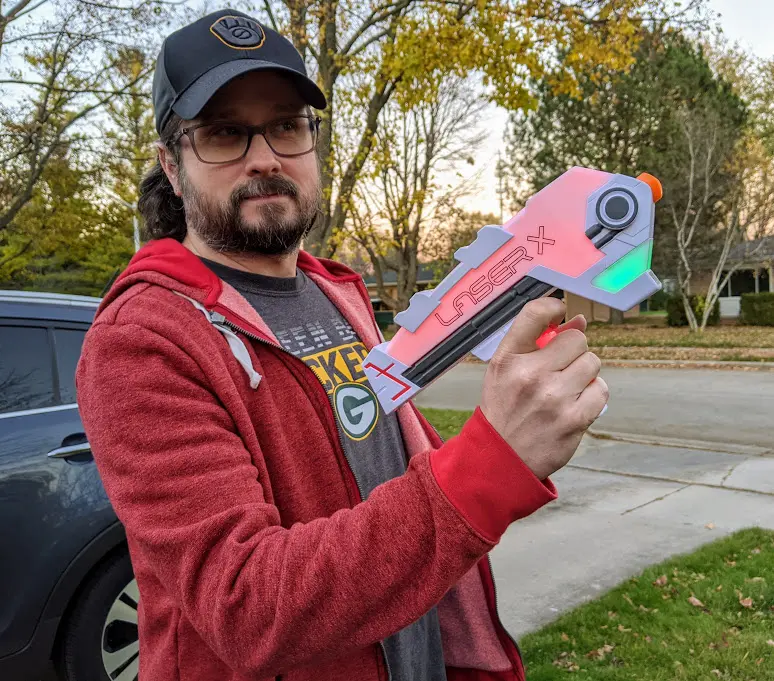 The interactive voice coach can be helpful too. I fully admit that I was usually more focused on playing (and laughing) than on how much life I had left.
My blaster encouraged me to "get out of here" and take cover when my hit points were low. It's hard not to get blasted when trying to blast your opponents.
These have up to 300 foot range and work through windows. My husband was on the other side of our car and I blasted him a couple times through the window.
I kept going rogue and loved setting my blaster color to purple!
Laser X Evolution is sold exclusively at Walmart.
Laser X Revolution Blasters
We previously had a set of Laser X blasters so it was great to expand our game with more players. I like that you can be on the red or blue team or choose the 3rd option with any color with the Laser X Revolution blasters.
The 3rd option also lets you hit anyone (go rogue), which is fun for playing until one person is left.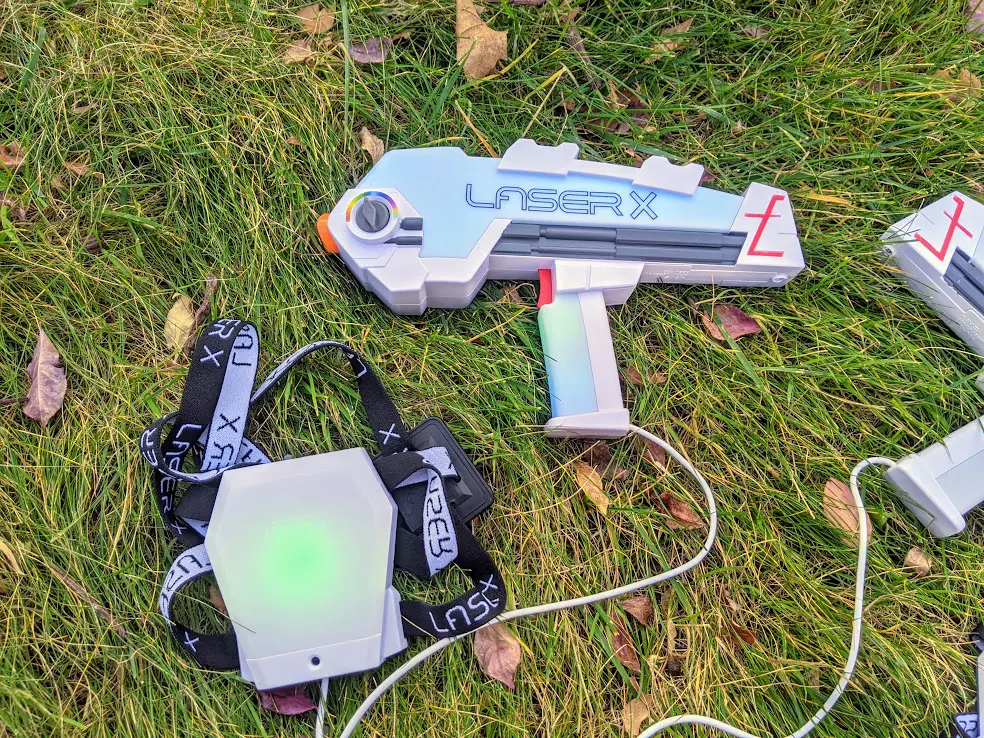 The chest receiver is easy to put on, but there isn't a good way to tighten it, so it was really loose on my kids. You only need batteries for the blaster since it is connected to the chest piece by a wire.
There is a voice coach that let's you know when you only have a couple hits left so you don't have to keep checking your sensor color. Super easy to reload by sliding the top part.
These laser guns have a 300 foot range, shoot through windows, can bounce shots off mirrors and some walls, and work in the sunlight as well as in the dark.
Laser X Revolution is available at Target and getlaserx.com.
Laser X Micro 2B Blasters
I love the small and compact size of the Micro 2B Blasters. At 5 inches, they are tiny compared to the other ones.
It makes them extremely portable (though all of the blasters are easy to travel with). Seriously, I can fit a pair of them in my purse.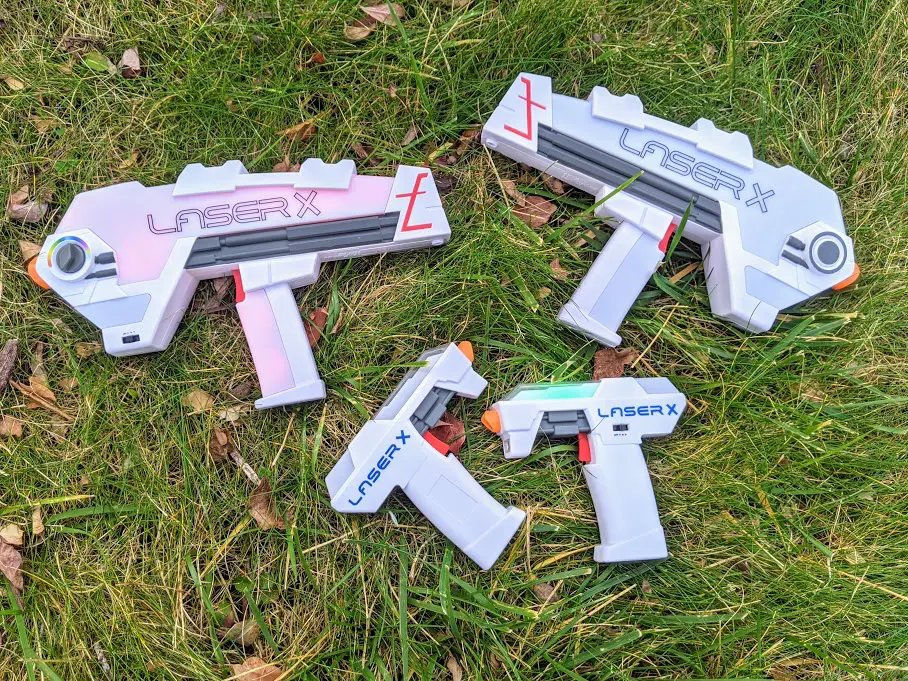 The Micro Blasters have a built in receiver making it easier to play without concerns about wires or straps for sensors. Also, the sound effects add to the experience.
They don't shoot as far as the other blasters we have (Micro Blasters have up to 100 foot range) so keep that in mind when playing in a bigger space. We weren't usually out of range from each other while playing in the yard.
Turning them on and reloading is quick and easy by holding the trigger in for a few seconds instead of sliding the top. We find they work best in late afternoon and when it is darker. My kids love using these outside and inside!
Laser X Micro Blasters are available at Target and getlaserx.com.
The beeping is loud on all of the blasters, but I know it's to help prevent people from hiding the entire game. Sometimes I wasn't sure if the crash sound meant I was hit or had hit someone else.
We've thoroughly enjoyed playing laser tag outside with the kids and it's plenty of fun for adults too. These would make excellent holiday gifts, especially this year!