I've quickly discovered a few differences in diapering boys and girls. Aside from the fact that their parts are different (and your toddler is quick to point this out and talk about it all day after you offered a teachable moment…). Diapering my daughter was quite easy, in my opinion, though I think cleaning up a very messy dirty diaper is not one of daddy's favorite things to do. From how to clean a girl up to wetting patterns, I figured diapering a little boy would be a breeze.
Turns out there have been a few surprises.
Watch where it's aimed
My son initiated me as a boy mom by peeing on me during the first week of his life. So far it has only occurred about three or four times, but what a way to put your mom in line, eh? I can't say my daughter has ever peed on me. Well, her diapers have leaked on my lap, but it's not the same. I know everyone says to keep him covered but I have zero luck because he manages to kick off whatever layer of protection I place over him. And let's not forget to point it down when putting a new diaper on unless you want to risk a leak out the top of the waistband!
Body changes
Not having male anatomy of my own to deal with, I didn't realize just how much it all changes down there. The first couple times I changed his diaper he must have been cold. The first time he was really cozy and toasty I thought something was wrong for a brief moment. I had to check with hubby that it was normal. I knew things moved around some based on temperature fluctuations, but never really bore witness to it before.
Watch where you wipe
With girls it is simple – wipe north to south. It can be a daunting task to make sure especially messy poos are cleared out of a gazillion crevices – including the thigh creases. With boys… I discovered the scrotum surprise. Be sure to lift and wipe! That breastmilk poo really likes to hide under there.
Wetting patterns
I swear he pees way more at his age than his sister did. She was the type of baby to wet frequently but in small amounts. He seems to open the floodgates every time. Girls wet in the middle to the back while boys wet in the front – so I have often have to cloth diaper them a little differently. I wasn't at first, but he seems to leak a lot so I'm still adjusting his absorbency. Though it doesn't seem to matter if he's in cloth or a disposable. Then there's that direction thing I mentioned previously.
One thing remains the same though…
They are both little wiggle worms while being changed! Overall Baby X seems more chill, but it won't be long before he's trying to "help." I went through quite a stretch with Miss R where two hands weren't enough to change her. I needed to be able to hold her hands and legs and keep them out of potentially very yucky messes.
X is getting better about being laid on the changing table and is often happy during changes – smiling and babbling. The first month I swear he cried every time! Sometimes the HALO SwaddleChange would help keep him happy, but other times he would fight to free his arms.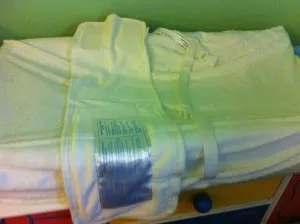 We love using HALO SleepSacks (with and without swaddles) so I was curious about the changing pad cover. It comes with a swaddle piece attached to it and fits most contoured changing pads. The fabric is really nice and soft. I don't like the elastic band that is supposed to stretch under the pad. It made it very difficult to put on our pad because of how it is attached to our changing table. I ended up cutting it off, otherwise it fits fine.
The swaddle can help baby to feel snug, warm and secure so diaper changing time is less scary. I know both my babies would have the startle reflex sometimes when placed on the changing pad so they'd be unsure about what was happening. The swaddle is meant to comfort them and should not be relied on to keep baby on the pad! Always use the safety belt and keep a hand on baby.
It's definitely different and another innovative product and has been awarded the PTPA (Parent Tested Parent Approved) Seal of Approval.It is rated for use from newborn to one year, but I suggest using it in the newborn stage. After that they are more likely to try and resist the swaddle if they are like my kiddos. I do wish I could detach the swaddle from the cover though.

The SwaddleChange is available on amazon.com and other select national retailers. Stay connected with HALO on their social media sites www.facebook.com/halosleepsack, www.twitter.com/halosleepsack and www.pinterest.com/halosleepsack!
Want to win one? Our US and Canada readers are eligible. Just leave a relevant comment below by 3/5/13 for your chance to be randomly chosen! Congrats to Colleen!
_______
Disclosure: We received a SwaddleChange to review. Link to Amazon is our affiliate link.