It's easy to dress up a boxed cake mix to bake a gelatin poke cake. I have a ways to go before getting more comfortable baking from scratch. In the meantime, we treat ourselves to easy dessert solutions.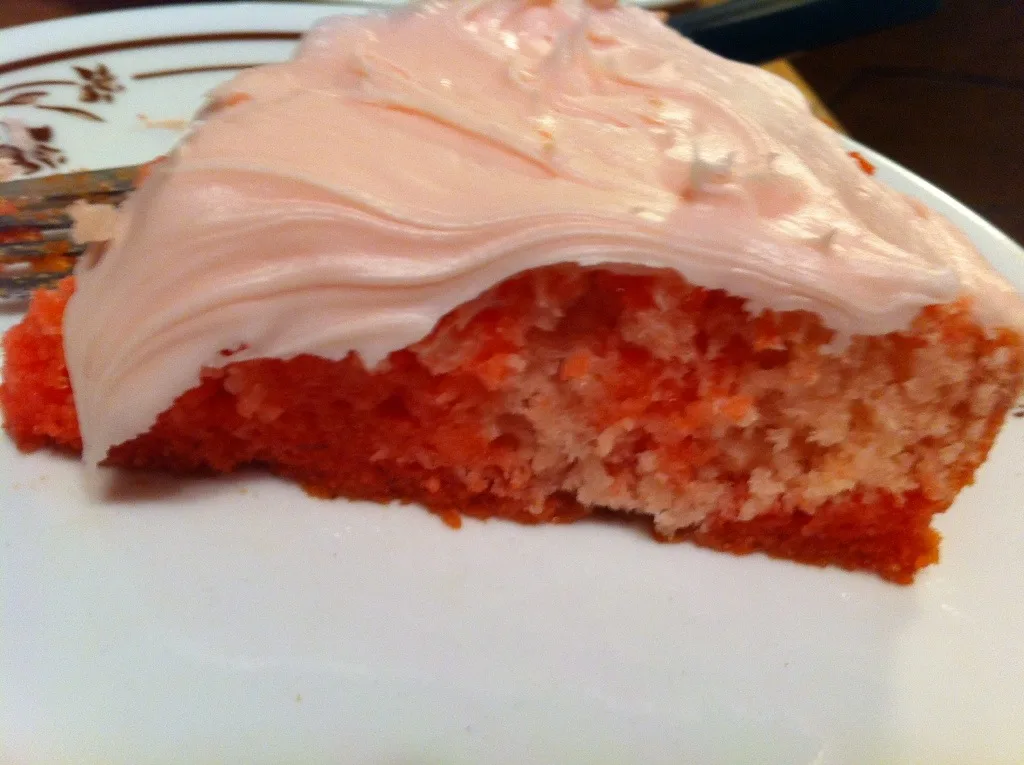 Pink Lemonade Jello Poke Cake
When I asked Rissa to help me bake a cake she got very excited. I had picked up a couple box mixes from ALDI and one had a recipe for a gelatin poke cake on the back. The original plan was to make a white cake with strawberry jello. Unfortunately I was a bit tired and Rissa was TOO excited so she kept hanging off me and begging to "do it."
So 3 egg whites ended up being 3 eggs added (which was exactly what we had left). I figured it wasn't a huge deal and let my daughter mix the batter. I thought it seemed thick, but dumped it into a pan anyway. But there was only enough for one 8×8. That couldn't be right….
I added only 1/4 cup of water instead of 1 and 1/4. A great lesson in reading directions closely. I tried to save the batter by adding the missing cup. Oh what a fail that idea was…. It wouldn't mix in and the batter looked like lumpy dumplings in a bowl of skim milk.
It was ruined. How the hell does one mess up a box mix cake? I mean seriously?
I got upset and dumped it in the trash. Thoughts of chucking my mixing bowl against the wall danced in my head until my toddler wailed. She didn't understand why mommy was throwing away the cake batter she stirred. She was crying like I was punishing her or something.
Quickly I composed myself and explained it was not her fault but mommy messed it up. I didn't have any more eggs so I could not make a new one… Except mommy knew a special trick.
We still had pink lemonade cake mix and frosting that I bought before getting gestational diabetes with my last pregnancy. Plus we had soda. Cake night saved!
3 Ingredient Gelatin Poke Cake
Ingredients:
Any box mix (I used Pillsbury Pink Lemonade mix
One can of soda; diet or regular (I used Mountain Dew)
Any flavor gelatin (I used strawberry jello)
Directions
Pour cake mix into a bowl. Crack open the soda and stir it into the mix.
Bake the cake as directed on the box and based on your cake pan(s)

Let cake cool for about 15 minutes then poke holes in it.
Mix the gelatin as directed on the box (dissolving in hot water then stirring in cold) then pour it over the cake
Refrigerate for at least 4 hrs so the gelatin firms up
Frost it! Eat it!
What kinds of last minute substitutes have you used while baking?