Have you ever heard of a convertible dress? It's a type of dress that can be worn multiple ways, thus giving you lots of options on how to wear it.
In my closet I have at least three fancy dresses I've only worn once and may never wear again: my wedding dress, a bridesmaid dress, and the red carpet worthy number I wore to the TriBeCa Film Festival last April. Everything else I own is a bit more casual, but functional. Thing is, I don't like to be caught wearing the same dress to multiple special occasions. That, and my closet could use even more downsizing.
Right now I'm feeling pretty good about my dress situation. I've found something even more versatile than the classic little black dress – and it comes in a variety of colors. The Henkaa convertible dress!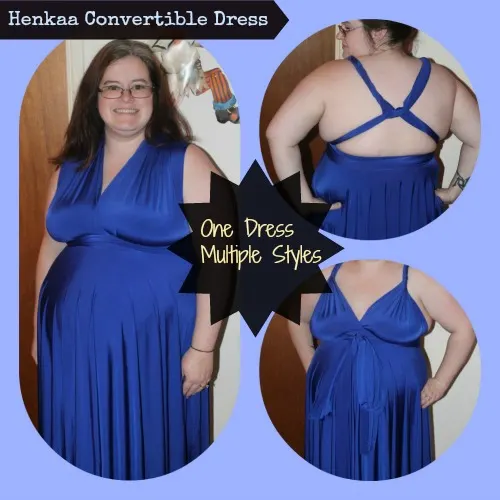 I like mine in blue.
The Henkaa convertible dress is made in such a way that you can take just the one dress and wear it as different dresses. It takes some practice (and often a helping hand) to wrap and style the material into different tops.
Same dress but with tons of different looks. Crazy, right? It can be a halter, strapless, one shoulder, tied in front, tied in back, and more. Some styles are fit for an award show, others a fancy dinner. The convertible dress has 8 basic style categories with several ideas for each complete with video tutorials.
It even works well with a baby bump so it's perfect for before, during and after pregnancy. Make it your date night dress, mama!
Learn how to manipulate the material into various looks and expand on those with different accessories, shoes and hairstyles so you never show up to a party looking the same twice. Pretty cool, huh? And the material is soft and shiny. When you consider how many places you can wear this to, it makes it a very affordable dress!
Do you have any tips for creating new looks for the same dress?
_____
Disclosure: I received a dress to review, which I tried on while still very pregnant. Crossing my fingers to have an occasion to wear it again soon!