This is a sponsored story.
The best part about baby showers is celebrating a baby. Forget the gifts and sweets for a moment. After trying to conceive for three years, having a baby shower for Rissa meant so much to me. It meant she was finally coming to join us.
Then it was the presents. Goodness, my cheeks hurt from non-stop smiles as I opened each and every gift. It didn't matter if I'd added it to the registry myself, it was chosen and purchased just for us.
There were games, food, family, friends, laughter and conversation. I'm thankful for my sisters organizing it and my coworkers for putting on a little party at the office. It was hard to resist the cake. I could smell the frosting, but my gestational diabetes wouldn't allow me to partake. The diaper cake was cute though! (And bullocks, I can't find a picture of it.)
Thinking back to my baby shower, I didn't have a theme. This was before Pinterest or I'm sure I would have stayed up late creating boards with ideas then sending them to my sisters. It's hard to stay hands off your own party!
With Xander, I didn't have a traditional shower. Although my kids are close together in age, I must admit I was a teensy bit disappointed no one threw a shower for me. I know second showers are a hot topic, but I thought since we were having a boy that.. well… maybe we'd have one. A small one.
Instead I collaborated with my friend Emily of Our Knight Life to host an online celebration – a baby sprinkle! – with all of you. That lasted a month and was very fun. Much different than Rissa's shower, but special in its own right. Gosh it's amazing how things change, isn't it? If we have a third maybe we'll have a virtual shower using group video chat?
Speaking of "what if" … if I was working on organizing someone's baby shower right now, I'd be going to Huggies for inspiration. They partnered with Punchbowl to offer stylish baby shower invites. Not only do I love the "Star light, star bright" invitation, but they have entire Pinterest boards dedicated to matching themes. You can send the invites digitally or the old school way and check out their boards for ways to match the party decor, food, etc with the invitation. The star theme is elegant, beautiful and works for a boy or girl. Love it so much!
Now that I'm done reminiscing about my baby shower and starting to think about planning a future one… you might want to check out this amazing sweepstakes. I know several of you are expecting or know someone who is and I bet you'd love to win $1000 towards the baby shower, right? Be sure to use the widget below to enter!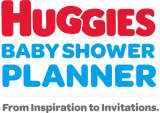 You can find an exciting array of theme ideas on the Huggies® Baby Shower Planner—it features games, favors, flavors, diaper cakes and more. Visit Huggies® on Pinterest to create exclusive invitations to match your theme and inspire your guests.
Disclosure: Compensation was provided by Huggies® via Glam Media. The opinions expressed herein are those of the author and are not indicative of the opinions or positions of Huggies®.