Are your kids obsessed with slime?
Do they like playing with water guns during the summer?
How about combining the two?
We received a couple of Slime Blasters for the kids to help review – just as the snow finally melted away. This post also contains affiliate links, which means if you make a purchase we may earn a small commission.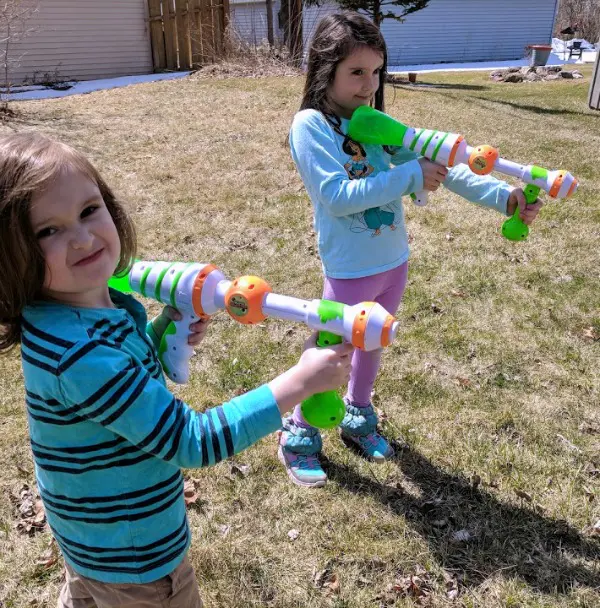 A New Way to Play With Slime: Slime Blaster Toy Review
We're getting ready for summer fun with the kids, and that means more time playing outside. There will be plenty of sidewalk chalk, bubbles, and bikes, but we like to get creative with messy play too.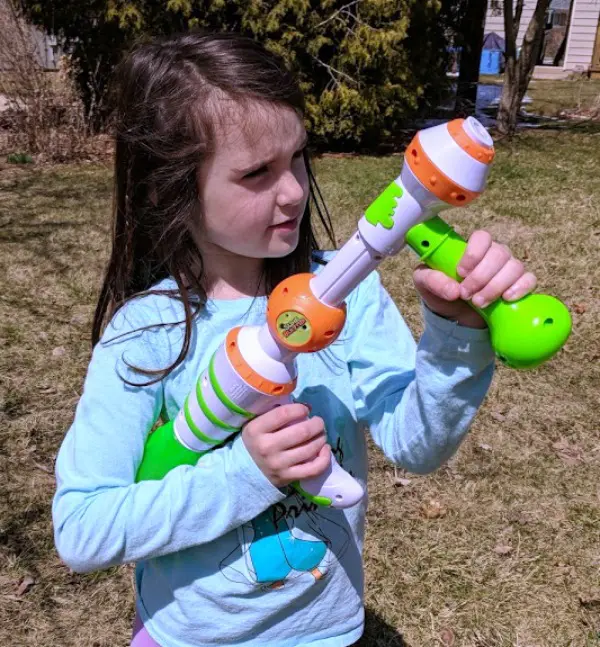 My daughter is part of the slime-loving crowd, so when I told her we were going to play with Slime Blasters, she was pretty excited. The kids really wanted to blast each other with slime, but I want them to wait until it's officially swimsuit weather here in Wisconsin.
That way I can just hose them off afterwards!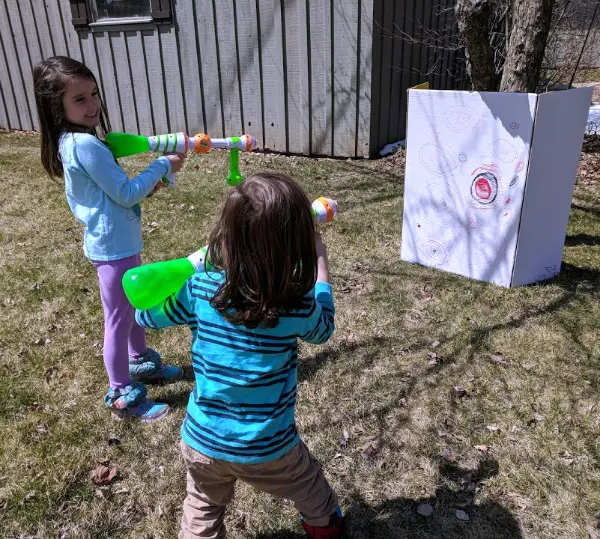 Their disappointment ended once I asked them to help decorate a target. I took a used tri-fold display and let them color on it. It worked nicely propped up against a tree in the backyard.
There are many fun ways to set up targets the children can shoot at with a Slime Blaster, but I was working with what I had on hand.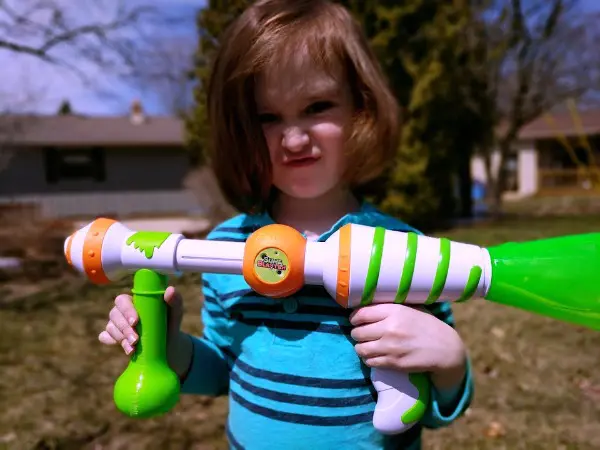 What is a Slime Blaster?
The Slime Blaster is a toy similar to a water gun. They are by Zimpli Kids, the creators of the amazing Gelli Baff and Slime Baff powders that transform water into 100% slime or goo. The Slime Blasters use their 100% safe Slime formula.
Just mix the slime powder with water in the Slime Blaster water tank and get ready for gooey, slimy fun!
Slime Blaster Toy Review and Demonstration
Watch our video to see this toy in action!
As my daughter and I shared in the video, we both were expecting thicker, greener slime to shoot out of the blasters. It was definitely gooey though! Overall, the kids had fun playing with them outside. They definitely are not indoor toys – at least not at my house!
What are you looking forward to doing this summer with your kids?


More kid activities ideas you may enjoy:
The Easiest Way to Play Laser Tag at Home
Screen-Free Play for Kids: Wubble Fulla Slime and Wubble Fulla Marbles Review