At our last cloth diaper event, I introduced you to Diaper Buddy's, an online cloth diaper shop that sells BottomBumpers. This is a fitting review today since I just talked about one size vs. sized diapers!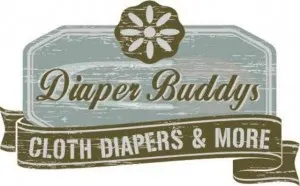 We are super appreciative of Patti's generosity. We enjoyed working with her last time and it's great doing it again! Since I reviewed a one size BottomBumper previously, this time I received a Medium BottomBumper in Orchid. I really wanted to compare the two. (Well, three. I have two OS BBs and one sized BB.)
We also received some cloth wipes and a booster. The booster has 2 layers of organic cotton. The wipes are 8″ by 8″ (larger than most of my other wipes). They are double sided with organic bamboo velour on one side and fuzzy organic cotton fleece on the other side. The wipes are so soft and can wipe up a larger area of mess. Even after several washes, they are nice and soft – gentle on baby's bottom, especially if they are rashy.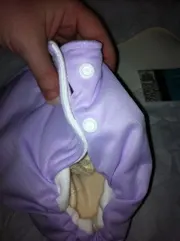 BottomBumper Features:
Side snapping (sized are available in hook and loop as well)
PUL Outer
Organic cotton lining
Organic cotton snap in soaker topped with organic bamboo velour
Made and sold by WAHMs in the USA
13 solid colors; custom embroidery available; limited prints released occasionally
Function:
I found the function of the sized to be the same as the one sized. It worked great for naps and day use. I used the booster to help through naptime and long car rides. Rissa wets too much at night now that I knew it wouldn't be enough. Though I've never had a leak with any of our BBs!
Laundry:
Since the soaker snaps in, it seems to get it clean in the wash. I always put these in the dryer (soakers and outer) and have to run two dryer cycles to get them completely dry. I don't like line drying these because the organic cotton gets stiff and scratchy.
User Friendly:
The sized are pretty user friendly. There isn't a rise adjustment to intimidate anyone unfamiliar with the diaper. There is no stuffing or unstuffing involved either. They take up a lot of room in my diaper bag wetbag, but I like them for when we are out. Daddy isn't always sure which is the front though. So, if another caregiver is used to front snapping, the side snapping may throw them for a loop the first few times.
Fit:
This is what you've been waiting for, right? Drum roll please…
Honestly? I didn't notice a big difference in the fit in the medium compared to the one size diapers. Yes, the medium is physically smaller than the OS and doesn't have rise snaps. It fit her nicely overall, especially around the thighs. Maybe because she's so skinny? They all have extra room in the waist. BBs are pretty trim for being AIO too.
Verdict: If you just really love sized or depending on your baby, then go for sized. Personally, I'd stick with the OS BBs and get more bang for my buck. Thoughts?
Now that you know how BottomBumpers fit on my tall, thin girl, check out how they work for a chunky monkey and an average sized babe!
______
FTC Disclosure: I received the product(s) mentioned above free of charge by the company or PR representative in order to conduct an honest review. I was not compensated in any other way for this post. The thoughts, experiences, and opinions included are entirely my own and may differ from that of others. I am not liable for any issues you may incur from use of said product(s). Images used are owned by me or provided with the company's permission unless otherwise sourced. See full disclosure information. If you have any questions you can contact me or leave a comment.