Last weekend my baby turned one and we had a fun party! I wish you all could have been there. Well, okay, maybe not. It was already a tight fit with all our guests. Maybe some day when I'm rich.. All I know is, the bar has been set for Halloween birthday parties for at least the next ten years. (She won't want parties her mom throws for her by then, right?)
Preparation for the party began several days ahead of time with decorations. We set up a little graveyard in the front lawn and lined part of the path with skeleton arm stakes. The stakes are plastic so they need to be handled carefully. I thought they were going to be metal. Unfortunately one is in rough shape from me trying to jam it into the ground. The stake part is plastic too and some didn't want to go into the ground for me. They come in pairs and we received 3 pair. I think they looked fine, but to to really get the full effect we need to have enough to line the entire path.
I think we had the most fun with the set of severed fingers from Shindigz. Up close they looked very fake but from a distance they looked gross enough! We scattered a couple fingers around the gravestones and duct taped one to the doorbell. The trick or treaters loved that! Ha!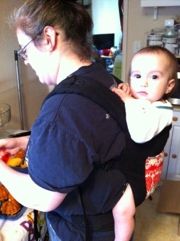 Rissa spent a good amount of time on my back in our Boba 3G carrier while I finished preparing the food. We had yummy themed eats: Dracula Juice, Sloppy Joe's Brains, Mummy Dogs, Eyes of Newts, and Cemetary Swamp Cake. I also made mini pumpkin cakes using the awesome pan I ordered Fron Shindigz! I love it … Perfect for Rissa's future parties too! I also made a handful of ghost cookies (Nutter Butters dipped in almond bark). The pumpkin cakes and ghost cookies were displayed on the Sweet Sensations cupcake stand. I admit I was a little disappointed with the stand. It was easy to put together but I thought it was going to be plastic, not styrofoam. I wanted it to be reusable but I don't feel comfortable reusing something I can't wash off very well.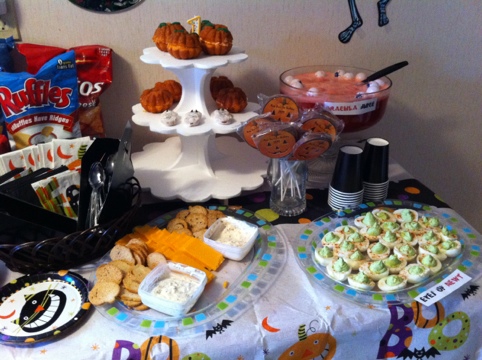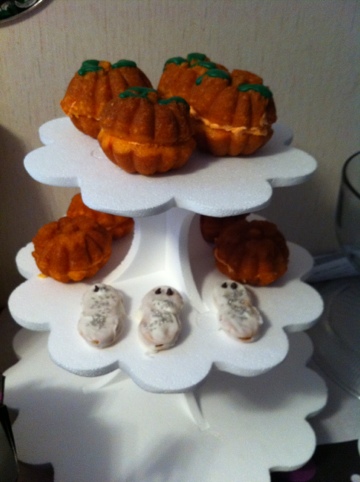 My favorite item from Shindigz is the custom vinyl banner! I almost had it say 1st birthday, but left that off so we can enjoy it year to year. This banner can be put up inside or out. We received several compliments on it from our guests. Everyone had a nice time and about half came in costume (yay!). They were sent home with a chocolate lollipop with a personalized label to celebrate the day!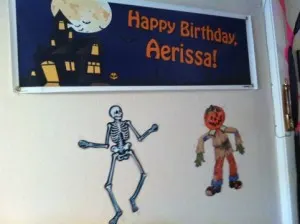 I'm so glad I found out about Shibdigz and had the opportunity to work with them for Rissa's party. They have an incredible selection of party supplies – almost too overwhelming! Their customer service is great too. One of the items I ordered ended up being out of stock when they got ready to ship. They worked with me to find another similar item to send my way. The email updates on the package status were helpful too. I'll definitely be using them again!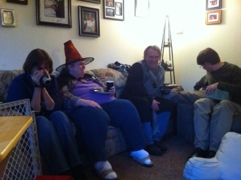 Oh! I almost forgot to share about the party pack (great price for table cover, plates and napkins themed) and the coffin silverware caddies. I didn't realize the coffins were papercrafts (my fault for going by picture and not reading the description). I thought they were plastic boxes. Super cute for the decor but the adhesive didn't stick well so I had to tape them together.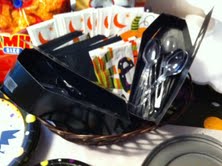 ______
FTC Disclosure: I received the product(s) mentioned above free of charge by the company or PR representative in order to conduct an honest review. I was not compensated in any other way for this post. The thoughts, experiences, and opinions included are entirely my own and may differ from that of others. I am not liable for any issues you may incur from use of said product(s). Images used are owned by me or provided with the company's permission unless otherwise sourced. See full disclosure information. If you have any questions you can contact me or leave a comment.