I previously posted about the breastfeeding milestone awards. These are like golden star stickers for breastfeeding mamas (or banana stickers if you are Dethklok).
They are not meant to make anyone feel bad, but are a way to help celebrate the ability to continue the breastfeeding (or pumping!) relationship despite societal pressures and other life factors that can make this difficult.
While natural, it's not necessarily easy. So for me to reach each milestone along the way has encouraged me to keep going and to made me proud of our accomplishments.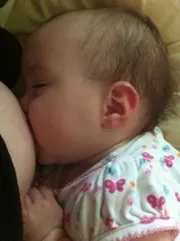 We have surpassed the one year mark so I am thrilled to announce that I have obtained the Golden Boobies Award (kind of like Golden Globe but… not). The girls, Rissa, and I have been through a lot.
We survived soreness, cracked nipples, nursing amnesia, tongue disorganization, the fear of public breastfeeding, and other random things I can't think of right now.


We've laughed, we've cried. We've embraced it, we've struggled with it. We've offered support to others and sought it as well.
I don't know when she'll wean. On one hand I look forward to it do she isn't as dependent on me; on the other, I don't want to lose that special time together. At least at this point I feel I've offered and provided for her needs well. I'm also putting some action behind my lactivism and pumping some milk for a newborn who needs it.
Now to see if we reach diamond… And platinum?
More breastfeeding posts you may enjoy:
Ultimate Guide to Breastfeeding Your Child
7 Things I Thought I Knew About Breastfeeding, But I Was Wrong
Why You Need a Breastfeeding Peer Support Group