Have you ever heard of a push present or a push gift? I hadn't until recently when I was contacted by Juno Lucina asking if I was interested in working with them. Admittedly I felt silly not knowing what a push gift was since I'm pregnant with my second child. I thought I learned all I need to know with the first! (Ha!) Plus, I thought gifts came about through baby showers or new baby meet and greet parties. So, I quickly did some research.
Push presents (or push gifts) are also referred to as baby baubles. They are typically presents from the baby's father given after the mother has given birth. It is meant as a way to honor and thank her for carrying and birthing their child. Apparently push gifts are growing in popularity in the United States. They aren't limited to only after giving birth or from just the father anymore though. Any loved one who wishes to provide a special token of appreciation and gratitiude may gift the mother before or after birth.
Now that I know what it is, I'm intrigued by it. I think it is a sweet way to show appreciation to a mom-to-be (whether it's the first baby or not!) since baby showers and all the other gifts tend to focus on the coming baby. Not that I think I need something for being pregnant – it's just nice… especially if you've experienced a lot of attention throughout your pregnancy then BAM! No one really fawns over you anymore once the baby is born.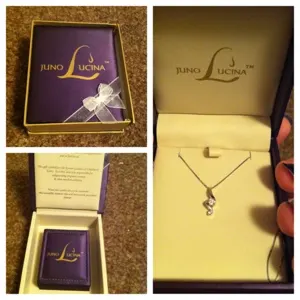 When I spoke with Erik, the founder of Juno Lucina, it was evident to me that he was passionate about providing a thoughtful gift for moms. He spoke about his appreciation for his wife and especially for mothers who endure difficult pregnancies. They really like creating meaningful jewelry that is symbolic and beautiful. Their signature pendant (pictured above in the lovely gift box) is inspired by Juno Lucina, the Roman goddess of childbirth.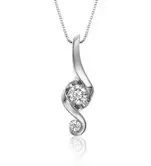 The design symbolizes the goddess cradling the heads of both mother and child in her hands to safeguard them on their journey.
They do have earrings, bracelets, and other necklaces too.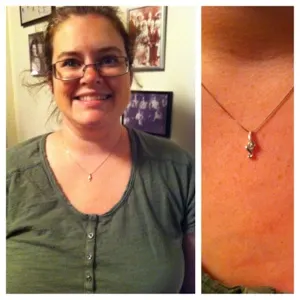 After having one pregnancy with gestational diabetes and now diagnosed with it again, I feel I could use some additional strength for myself and protection for my baby. While it's not the worst condition to have while pregnant, it does carry risks for both mom and baby. The pendant is truly beautiful as is the chain. And, it comes in a gorgeous box so no additional wrapping is necessary! If my husband had presented this to me, I think I would have cried.
Have you ever heard of push gifts before? Did you receive one?
Keep an eye on their Facebook page for special promotions and discountss!
______
Disclosure: I received the above pendant for review purposes; no other compensation was received. My honest thoughts are shared here!
Wikipedia – push present reference