Every now and then I come across something that really resonates with me on an emotional level. Learning about Over the Moon: The Broadway Lullaby Project is one of those things. It combines the importance of reading and music for children with the need to support breast cancer research. Cancer in general has been hitting home with me more. My paternal grandfather died from cancer (pancreatic, I believe) when I was very young, my paternal grandmother was a breast cancer survivor (though she left us shortly after Rissa was born), and now my dad is battling prostate cancer.
"It's nearly impossible to think of anyone who hasn't been affected by this disease," Jodi Glucksman, co-producer observes. "Nearly everyone we contacted seemed to have been touched by it. So the concept really resonated with people, and seeing how people responded propelled us to get more ambitious and expand the scope of the project."
I'd be lying if I said I'm not scared of developing breast cancer. I've seen how it affects others around me, even lovely people who survive it like an old co-worker of mine.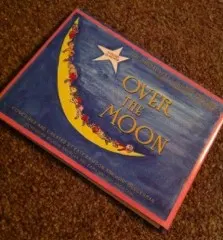 Over the Moon: The Broadway Lullaby Project is not merely a book. You can purchase just the book if you want, but the full project includes two CDs with a 26 song set, a hardcover book with illustrations of 17 songs from the album, an e-book with illustrations for the entire collection, and a documentary film and web series. A lot of compsers, vocalists, children's book illustrators and Broadway set designers came together and donated their talent to create this emotionally charged set of new lullabies, some written specifically for this project.
While the book and songs are meant to provide soothing entertainment for children, they are also enjoyable for adults. The best part? It raises funds for respected breast cancer charities The Breast Cancer Research Foundation and Young Survival Coalition.
When Kate Dawson became pregnant, Dawson's thoughts turned to her cousin Jill, who lost her battle with breast cancer in 2006 at the age of 45, leaving behind a husband and two young children. Dawson pondered a way to honor Jill, and resolved to create an album of lullabies to benefit breast cancer charities.
Rissa enjoyed flipping through the book, though she's not the biggest fan of soothing lullabies these days. I felt a bit odd reading the lullabies since I knew they were songs… but I felt odd singing them to her too. It's nice being able to play the CD while looking through the book though. I definitely like knowing it has such a beautiful passion behind it.
"These lullabies are about the love between parents and children, and it's a unique way of expressing that love. So we hope that it will be something that families can enjoy together," says the producers.
_______
Disclosure: We received the book and CD for review; no other compensation was provided.