It's exciting that we are finally working on our playroom project and mission to get organized; however, it is not moving very fast yet. Rissa and I are both super excited for this new space. She likes to go down and look at "her house." I am envisioning a space for all the toys to go and a corner work space for me while the kids play.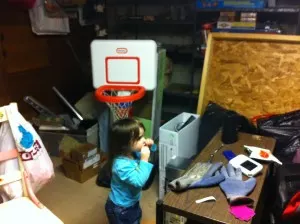 It is tricky trying to build a new room in the basement while figuring out where everything down there will go. Boxes, boxes and more boxes! and strollers, car seats, outside toys… So far the wall frames are up and some shelving units have been built. Currently we are going through everything and deciding what we are keeping, donating or throwing away. This process would be much easier if the boxes were labeled. The rest of the house is kind of a chaotic mess of stuff and boxes and bags as we get it all sorted out. I swear, you have to make a worse mess before it can get better.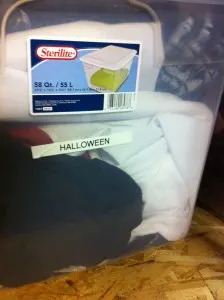 Since they weren't before, they are getting labeled now as they go on the shelves. No more hunting for the box of Christmas decorations or spare computer parts! As much as we'd love to use clear storage containers, the reality is we have a lot of boxes to utilize that we can't see into. Though even when I can see in, it's so much easier to read the labels than to try and peek into the bins without opening them.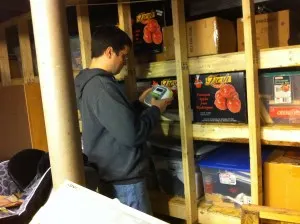 We've been using a Brother P-Touch Labeler for our the labeling portion of this project. It is super easy to use and create nice looking labels. So easy that we didn't have to read the directions to make our first label. Okay, so I looked at the directions to make sure I loaded the labeling tape correctly, but other than that it was easy to figure out!
The keypad makes typing them out a breeze, it can save several favorite ones and has a font selection. It does require 6 AAA batteries or an AC power adapter – neither of which are included. The labels also print with large margins on each side which is kind of wasteful.
After we finish labeling the storage boxes downstairs we can start labeling:
Toy storage

Items in the nursery

Kitchen cabinets

Personal files
I'm also hoping they might be able to cover up my old Twitter information on my business cards.
Have you completed any organization projects recently? What did you work on?
See what projects others are tackling by checking out the Brother Office Facebook Page.
______
Disclosure: I wrote this review while participating in a campaign by Mom Central Consulting on behalf of Brother P-Touch and received a product sample to facilitate my review as well as a promotional item to thank me for my participation.