One of the things I struggle most with when watching my weight is staying away from the pasta. I love pasta of all sorts but one of my favorite ways to enjoy pasta is with rich, creamy sauces. The richer and creamier the sauce, the more the dish calls to me. Of course, pasta dishes loaded with heavy cream are not the best thing to choose when you are trying to watch your weight. This Light Lemon Pasta dish uses a low fat, creamy lemon sauce instead of the traditional heavy cream that pasta dishes often call for. This is a pasta dish that I can enjoy even while watching my weight.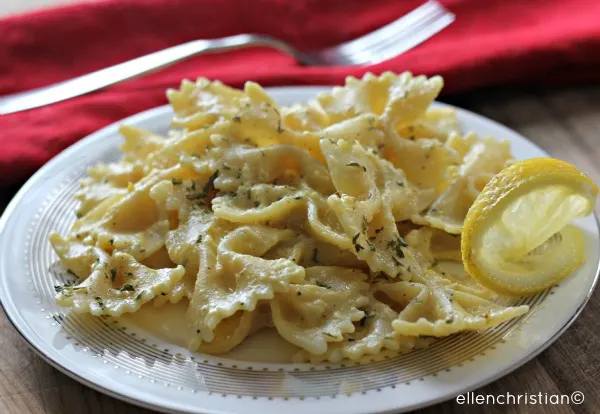 Light Lemon Pasta
8 oz of Farfelle pasta (bow tie pasta)
2/3 Tbsp butter
2 tsp olive oil
1 tsp minced garlic
1/2 cup water
1 egg, beaten
1/3 cup grated Parmesan cheese
2 Tbsp lemon juice
zest from half a lemon
salt and pepper to taste
1 Tbsp dried parsley or fresh if you have it
Cook the pasta according to directions and set it to the side.
Melt the butter and olive oil in a pot over low heat. Add the garlic and stir for a few seconds. Add the water and heat for one minute.
Remove the pot from heat.
Stir in the beaten egg and the Parmesan cheese.
Add the pasta and the lemon juice and zest and stir until combined.
Season with salt and pepper to taste and top with dried or fresh parsley.
This is one of my favorite light past dishes. The lemon sauce is really very similar to a sauce made with heavy cream. The garlic and lemon give it a nice zest as well. This dish can be served as a side dish or as a main meal. If like, you can add seafood to the Light Lemon Pasta at the very end. I have tried it with baby shrimp and it's absolutely delicious.