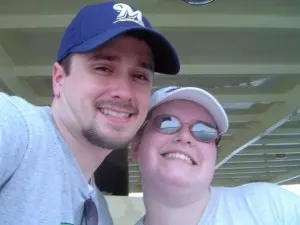 If you wanna know, if he loves you so, it's in his kiss…
We'd been hanging out for awhile, but finally became a couple. An official couple. Good thing because my head was clouded with thoughts about this young man who was stealing my heart. Somewhere I have the poetry to prove it too.
So once we talked about our feelings and where we saw our relationship going, it was not surprising that we spent so much time together. I know it is so cliche, but it really felt like we were meant for each other. Our interests and values were well matched and our personalities meshed well. I got along with his family and he got along with mine.
Before the "L" word became spoken we shared a memorable first kiss. There is only one other first kiss memory I have and that was from when I was in 2nd grade. No other lip locking sessions stand out to me in my memories. Brian was a little different than most guys I'd dated previously (because they were wrong for me, obviously). He was quieter and not in a hurry to move along our physical relationship.
I can't tell you how long we'd been dating or what the date was that day, but I will never forget the first time he kissed me.
It was a nice day out – nice enough to go by the lakefront. He took me to Port Washington along Lake Michigan. They have an area in the marina where you can walk out to a (fake) lighthouse. It was late afternoon when we met up that day. By the time we walked out to the lighthouse the sun was setting. We stood out there, hugging, my head laying against his chest.
We stood there for what felt like a long time but was probably only a few minutes in reality. I could hear and feel his heart pounding in his chest. I smiled, knowing he was nervous, and guessed what was to come. We looked at each other and kissed.
I wish I could share the replay in my mind with you so you could see just how beautiful and romantic the whole thing was to me. It's been awhile since we've visited there. Maybe we should take a trip this summer…
More reasons I love my husband:
31. He's become more confident in his role as dad.
32. He embraces geekiness.
33. We make a great 2 person band ala Rock Band.
34. He's not quick to make judgements.
35. He tells me I look great when I don't feel like I do (like when my gray grows out or I'm hugely pregnant).