Is your kid obsessed with Shopkins too?
My daughter didn't really know much about them until she started kindergarten. I've known about their existence for awhile, but since they were so small, I didn't buy her any when they first came out. As their popularity grew, I was intrigued while also relieved that she wasn't collecting them.
Of course, that has changed now…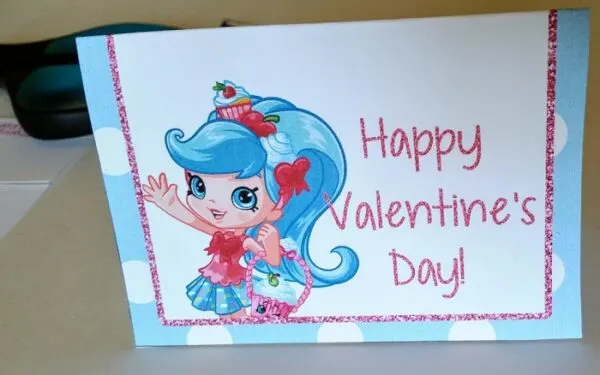 Not long after the school year started, she began talking about them a lot, especially since several of her friends collected them. Knowing how much my daughter and her school friends love Shopkins, I thought she would enjoy giving out Shopkins valentines on Valentine's Day.
Printable Shopkins Valentines Cards
This post contains affiliate links.
When we updated her bedroom, she requested Shopkins sheets for her bed.
At the time, she still didn't have any of the toys to play with so she put Shopkins on her Christmas wish list. Now that she has some of her own, of course she wants more. She wants Shopkins EVERYTHING.
OK, OK. I have to admit they are kind of cute…
Materials needed:
Scissors
Pen or pencil
Printable Shopkins valentine cards
Shopkins Valentines
Subscribe to get our Shopkins Valentines. You'll also get access to our latest printables and weekly updates by email.
These work well for classroom valentines. They print nicely on card stock paper. I printed these out on our home printer, though you could have them printed for you.
Depending on class size, you may want to assist with cutting these out so your kid doesn't get too bored. Otherwise, these do provide scissor practice for kindergartners.
Have your child practice writing their classmates names and their own name too!
You can hand these out as is, or attach them to sweets, pencils, etc. to make them extra special.
We hope you and your children enjoy these printable Shopkins valentine cards. The kids always seem to have a blast celebrating Valentine's Day with their friends and exchanging cards. It is fun to look through and see what everyone chose to hand out!
More Valentine's Day Posts: