To assist with our toddler's room makeover, we received wall decals to review.
At least I think it's princesses we are going with now. It once was Yo Gabba Gabba, then Lalaloopsy, then Dora, then Princesses… then we went back to Gabbaland for a bit.
Yeah, progress has been slow on Rissa's room. We think she's ready to transition to her own room, but we have to clear it out first. The room we are redoing for her was our computer/storage room. After the playroom was built (hmm, I never posted a final on that, did I?), our computers and desks were moved down there along with most of the toys.
Now the room is full up, haha.
It's been slow going as we go through the odds and ends in that room. Soon it will be ready to be repainted. Rissa asked for purple. Right now it is this pinkish orange color. It needs a new color. (Also, the current paint job is awful for taking photos in that room. You've been warned!) It'll be a bit yet, so I decided to put up the Disney Princess vinyl wall decals from RoomMates just to get an idea for decorating and layout.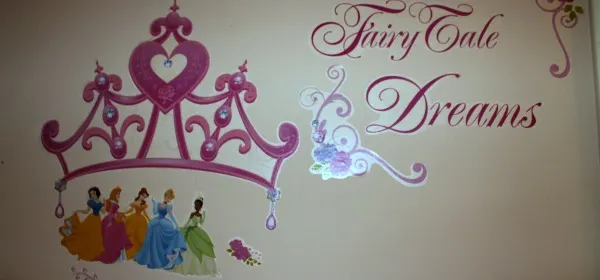 I really would like the "Fairy Tale Dreams" and crown near her bed – wherever that will go.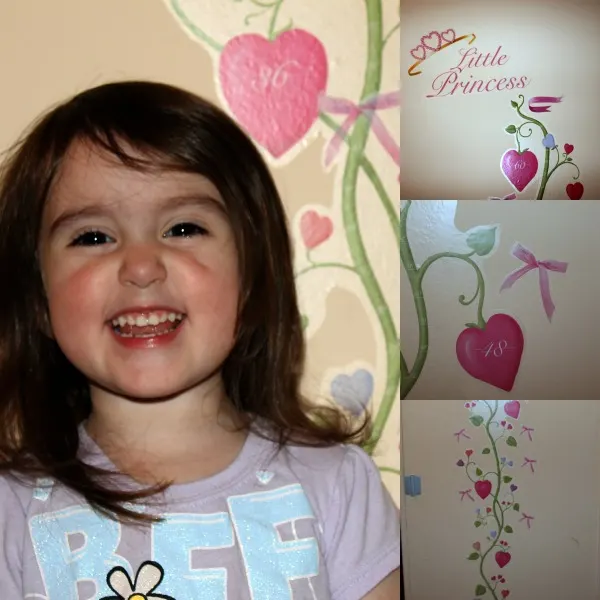 The growth chart proved trickier because of how tall it goes, so I opted for the outer sliding closet door. Rissa was so excited about getting measured!
After helping me put up the decals, she's set on wanting a princess room again. I need her to make up her mind before we paint and get her bed, though she already has princess sheets we found unopened at Goodwill for less than $10. (Score!)
I love that i can put the decals up now during the planning stages and remove them or move them around as I see fit. The growth chart was the toughest to put up. It wasn't overly difficult, but a bit annoying/frustrating. It's in multiple pieces that need to be lined up and the curve of the vine was creating issues of it sticking to itself. It was still doable as a solo project, but the other decals were much easier to apply.
I can't wait to see the finished room!