While I sometimes forget just how pregnant I am, my body keeps reminding me. It's tough to go up and down stairs and is very uncomfortable to carry Rissa. It even hurts to try and tighten her car seat straps. Too much pressure, pulling and straining!
I mean, I know my baby boy and my belly are both growing, but I can't see just how much. I only know it's harder to see stairs around my bump.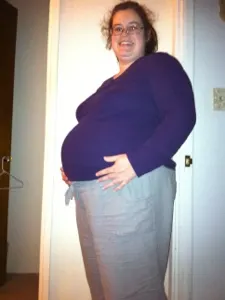 Then I saw this picture (taken just hours before writing this entry). It has an upward angle because Rissa insisted on taking a picture so she was helping daddy. Whoa, that's a whole lotta belly!
So at my recent OB appointment they gave me the protocol sheet for when I go into labor. I was like I don't need this yet! then realized it really is almost here again. I'm happy to report that baby boy is cooperating with my NSTs so far! Maybe I won't have to switch to the extra ultrasounds. This OB and nurse are more hands on with poking, prodding and shaking my belly to get him awake and moving. My last one really didn't make attempts like that.
Since it is getting so close I need to work on my birth plan…and finally make a decision about a doula. I've been wanting one this whole pregnancy but unsure if I can afford it. Most doulas actually undercharge for their services, I think, but I am not sure if I can swing it or not. I asked my insurance if they would reimburse or cover it and they said no.
I know they can be key in helping a laboring mom achieve the birth experience she wants and help advocate against an unnecessary c-section (which I'm totally terrified of having). My hospital seems to be pretty good at honoring plans and encouraging natural births…but still. I've heard so many good things about having a doula.
I started searching for local ones after deciding I didn't feel comfortable with the idea of one that works for the hospital…then chickened out on contacting them. I didn't want to get my hopes up then seem inconsiderate if they charge outside my financial budget. Now I am really wishing for one again but thought it was too late. I was encouraged on The Feminist Breeder's Facebook page that it's not too late! Before my next update to you my goal is to contact a couple and see what we can work out! (I seriously wish Gina of TFB lived closer. I'd love to hire her!)
Did you use a doula?