One of my favorite movies this year is most definitely People Like Us. It's just so … real. Earlier this summer I shared my movie review of People Like Us with you. It was released on Blu-ray and DVD on October 2, 2012, and I couldn't wait to check out the bonus features. And to watch it again, of course!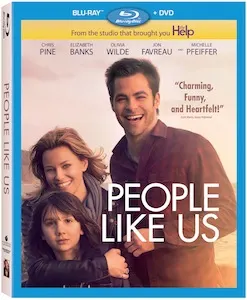 If you haven't read my review yet, go do it now so you know why I love this movie. I'll wait for you here, then we can chat about the special features.
Just in case…. here's a synopsis of the movie:
"People Like Us" is directed/produced by Alex Kurtzman (Cowboys & Aliens, The Proposal, Star Trek, TV's "Hawaii Five-O"), written by Alex Kurtzman, Roberto Orci (Transformers, Star Trek, Cowboys & Aliens) and Jody Lambert (her first writing debut) and composed by award-winning composer A.R. Rahman (127 Hours, Slumdog Millionaire). Chris Pine, who plays Sam, is a twenty-something, fast-talking salesman whose latest deal collapses the day he learns his father has suddenly died. Against his wishes, Sam is called home to put his father's estate in order and reconnect with his estranged family. While there, he uncovers a startling secret that turns his entire world upside down — he has a 30-year-old sister (Banks) he never knew existed.
Blu-ray Combo Pack BONUS FEATURES:
Audio Commentary with Writer/Director Alex Kurtzman and Actors Chris Pine and Elizabeth Banks
Audio Commentary with Writer/Director Alex Kurtzman and Actress Michelle Pfeiffer
Audio Commentary with Writer/Director Alex Kurtzman and Writers Roberto Orci and Jody Lambert
Number One with a Bullet: The Story Behind "People Like Us"
Taco Talk: Extended Henry's Taco Scene
Deleted Scenes
Bloopers
I love the idea of audio commentary and often mean to rewatch a film with it on, but I rarely get the chance to do so. I was able to spend quality time with the rest of the features though!
Number One with a Bullet: The Story Behind "People Like Us"
I learned that this film was a major diversion from the writers and directors usual science fiction genre. I wasn't even really aware of that before. Truth be told, I'm not familiar with very many writers and/or directors save for a select few. It was interesting to hear how they decided to do something different and went to their roots. Thie story of People Like Us is inspired by Alex's own similar experience with a half sister he met as an adult. They were 15 years apart and met at a party.
One of my absolute favorite scenes is at the end. It makes me tear up every time I watch it. So it was interesting to find out that Alex started out knowing the ending but had to figure out how to get there! What a powerful and emotional scene to work backwards from. And I couldn't agree more with him that the "unsaid" and "between the lines" were just as important as the delivery of the actual lines.
Taco Talk: Extended Henry's Taco Scene
I'm not very familiar with LA so I didn't recognize the locations used in this movie. The fact that they purposely chose to film in the lesser used places of LA (movie-wise) helped make it feel more authentic, I think. Even though I didn't really know if those places actually existed, it seemed more real than taking place in upscale areas often shown in movies. As said in the features, the movie features an insiders real LA. Heck, LA is kind of a character itself in the movie.
One of the locations used was Henry's Tacos. I had no clue it was a real taco stand. Apparently, Chris Pine (who played Sam) asked to include it – it's a place he has frequented for years! To make their dinner scene even more authentic, I found out that only half of their bonding chit chat was scripted. The other half was improvised. Pine and Banks referred to some real life tidbits in their exchange!
Bloopers
Normally I love bloopers and gag reels, but they can seem odd to me outside the comedy genre. Most of the bloopers for this movie consisted of goof ups and flubs, but nothing I found hysterical. Several made me smile and a few coaxed a quiet laugh.
You can purchase People Like Us on Amazon where my review is highlighted as being the most helpful favorable review!
_______
Disclosure: We received a copy of this movie for review purposes.