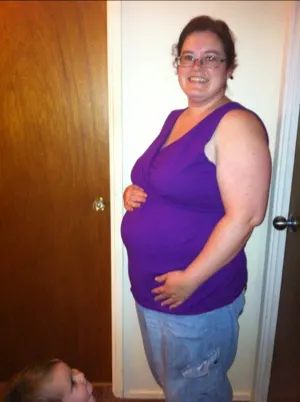 I feel like my belly hasn't grown much but every picture update does make it look bigger, doesn't it? I'm so glad I got some new maternity clothes. I definitely can't fit into my pre-pregnancy jeans anymore!
When is this baby due again? Based on my last period, my due date was calculated to be December 1, 2012. At my first ultrasound around 6 weeks, the tech mentioned something about a new due date based on baby's measurements. She said it was pretty close so my OB might not change it. Well, I didn't know she did change it until this past Thursday when I had my 20 week ultrasound and an OB check up.
Oops.
My new due date is December 6th, which is just enough to throw off my weekly progress! I thought I was 20 weeks as of last Saturday, but instead I reached 20 weeks on Thursday. I'll still share my weekly updates on Saturday, but I'm repeating 20 weeks!
Ultrasound, ultrasound… It showed baby's growth to be within a day of my (new) due date so that's good! This lil punkin is about 12oz now even though I'm still holding steady at only 2lbs gained so far. It was great to see baby moving around on the screen. Daddy and big sister got to see it too, though I'm not sure they knew what they were looking at! Soon I hope to share some ultrasound pics…I need to see what all they put on the CD for me!
I told the tech that we were hoping to find out baby's sex, so she kept trying to look. This baby didn't show everything like Rissa did, so we've just been given a "possibly" answer at this time. That's okay, I'll have more ultrasounds! But, if you want to know what we think we are having based off the ultrasound…just look at our logo… It's a new color!