It's summer time and we all want to be outside as much as we can. However, sometimes the weather doesn't cooperate with us so we need backup plans – especially to keep the kids entertained! We received a fun "Rainy Day SOS Kit" complete with movies, snacks, cards, and ideas for DIY fun, but we are lacking rain around here. What we have been experiencing are extremely hot days with a high heat index and heat advisory. This means stay inside in the air conditioning if you can!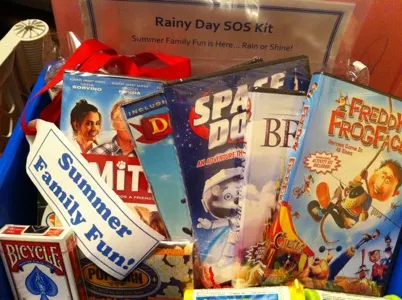 So, I renamed it an "Indoor Summer Fun Survival Kit" because it doesn't have to rain to keep us indoors. Though it seems harder to explain to my daughter that we can't go outside because it's too hot. To her it looks just fine out there! So it becomes all about the distraction!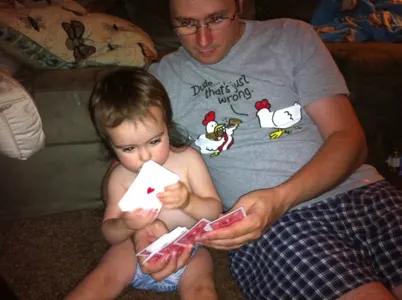 Like playing with cards (teaching shapes and numbers!) or picking out a movie to watch together.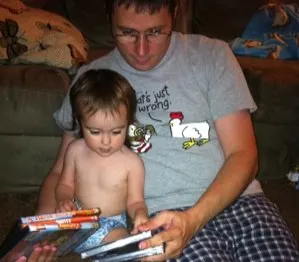 Redbox's Summer Family Fun Program and Sweepstakes
From now through August, Redbox has a bunch of new family-friendly DVDs for rent. 8 of these DVDs are from Phase 4 Films and they'll be available all summer long: I Heart Shakey, Rock Stars, Space Dogs, Smitty, Kiara, My Friend Bernard, Freddy Frogface and Donkey X.
There's also a fantastic sweepstakes inspired by the "Summer Family Fun" DVDs offered by Redbox. Prizes such as a four day West Coast Princess Cruise for four that includes round trip airfare or a seven day vacation for four at the Kennedy Space Center. When you rent one of the "Summer Family Fun" movies from Phase 4 Films, just enter your email address at checkout to be automatically entered! For the official rules and find out how to enter without renting a DVD, please visit www.redboxsummerfamilyfun.com.
Create Your Own Indoor Summer Fun Survival Kit!
Get a plastic storage bin or box to fill up with fun things to keep your kids occupied for those days when everyone feels cooped up.
A new (or all-time favorite) movie
A throw blanket
Snacks (popcorn, boxes of raisins)
Deck of cards
Markers
Construction paper
Glue sticks
Cards with crafting ideas
Playdough (or make your own)
Music CD
Buy or make an "I spy" set (ex: a tube filled with rice and small objects to find like a penny, a thumbtack, an army guy, etc)
And so many other things… the trick is to keep items and activity ideas in the survival kit that you don't regularly engage in so that they are fresh and exciting. It helps fight off the boredom!
How do you keep the fun going when you have to stay inside?
_______
Disclosure: We received the above mentioned films as part of a Rainy Day SOS Kit. No other compensation was received.