My daughter loves Yo Gabba Gabba. She can identify all of them and asks to watch it all the time. She also wants to play with the iPhone app nonstop. I will admit, when I first watched the show I thought it was weird and wondered what the writers were smoking… but it has grown on me. They do a great job at keeping a young child's interest and use music to get their message or lesson across.
They are also way too good at creating earworm songs. My husband and I both frequently wake up with their songs stuck in our heads. Rissa loves this because I become compelled to sing to get it out of my head! She's starting to sing along to songs now and respond to DJ Lance Rock (whom she calls "Rockin'") which is awesome! I think watching Yo Gabba Gabba has helped her with learning colors and pronunciation. Rissa loves being quizzed about her pals Brobee, Foofa, Plex, Muno and Toodee. She can tell me what color everyone is without looking at them.
As for pronunciation… she loves their Name Game song. My name is Plex, Plex. P-p-p-p-p-p Plex, Plex. I'll add in words she says to me, which she finds to be super fun, and now she's saying it too. Definitely helps her work on consonants!
Anyway… if your little one is as big of a fan as my daughter is, here are some gift ideas. A few of these items we have, while the others I've been eying up for her birthday.
5 Yo Gabba Gabba Gift Ideas
If you've struggled with finding Gabba merchandise in your local department stores like we have, you might be happy to know that Amazon has a decent selection. Each gift idea links to Amazon using my affiliate referral.
1 – Yo Gabba Gabba! Live! There's a Party in My City! DVD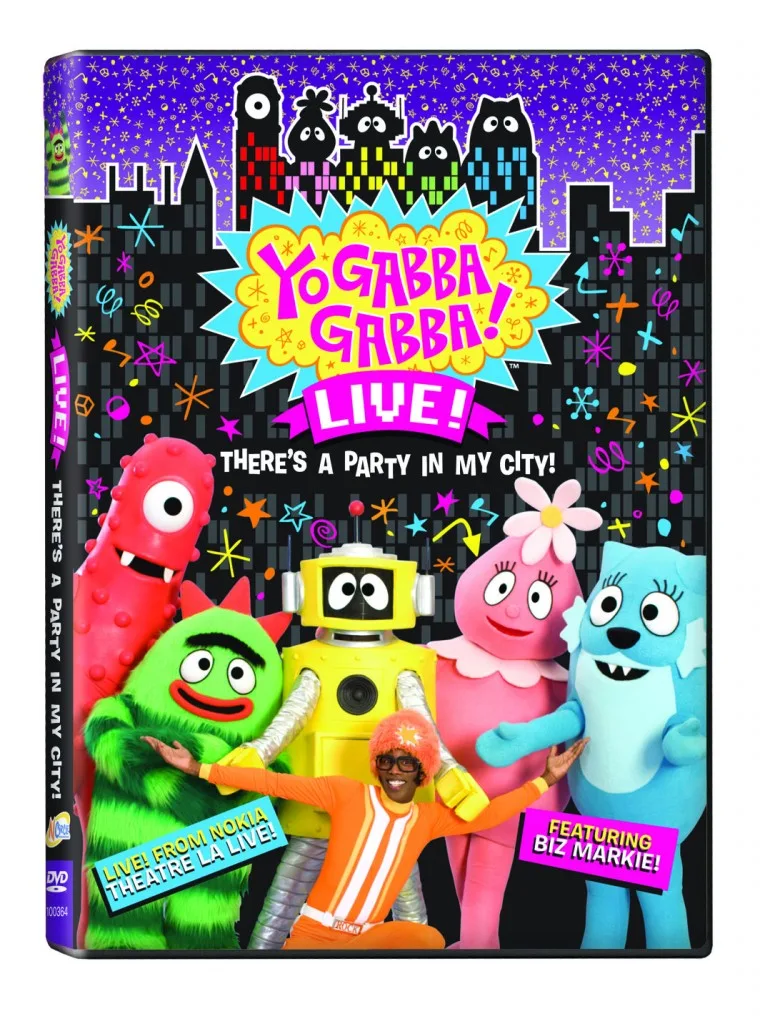 Synopsis: join D.J. Lance Rock, Brobee, Toodee, Foofa, Plex, Muno and all of our favorite Yo Gabba Gabba! friends for their first-ever live concert! It is a non-stop musical extravaganza. Get up on your feet to sing and dance along over ten Gabba favorites, including: "There's a Party in My Tummy," "Name Game" and "Get The Sillies Out." This full-length concert is packed with special guests including beatboxing legend Biz Markie performing Biz's Beat of the Day, the incomparable Leslie Hall & DO IT teaching a Dancey Dance, and Super Music Friends Show guest The Aquabats performing everyone's favorite, "Pool Party." Yo Gabba Gabba! Live!: There's a Party in My City! will get the whole family dancing and singing no matter what city you're in!
This was the first time we ever watched the show. Rissa was instantly hooked! We saw this DVD at Target and Walmart as well as on Amazon.
2 – It's Okay Try Again Book (or their other books)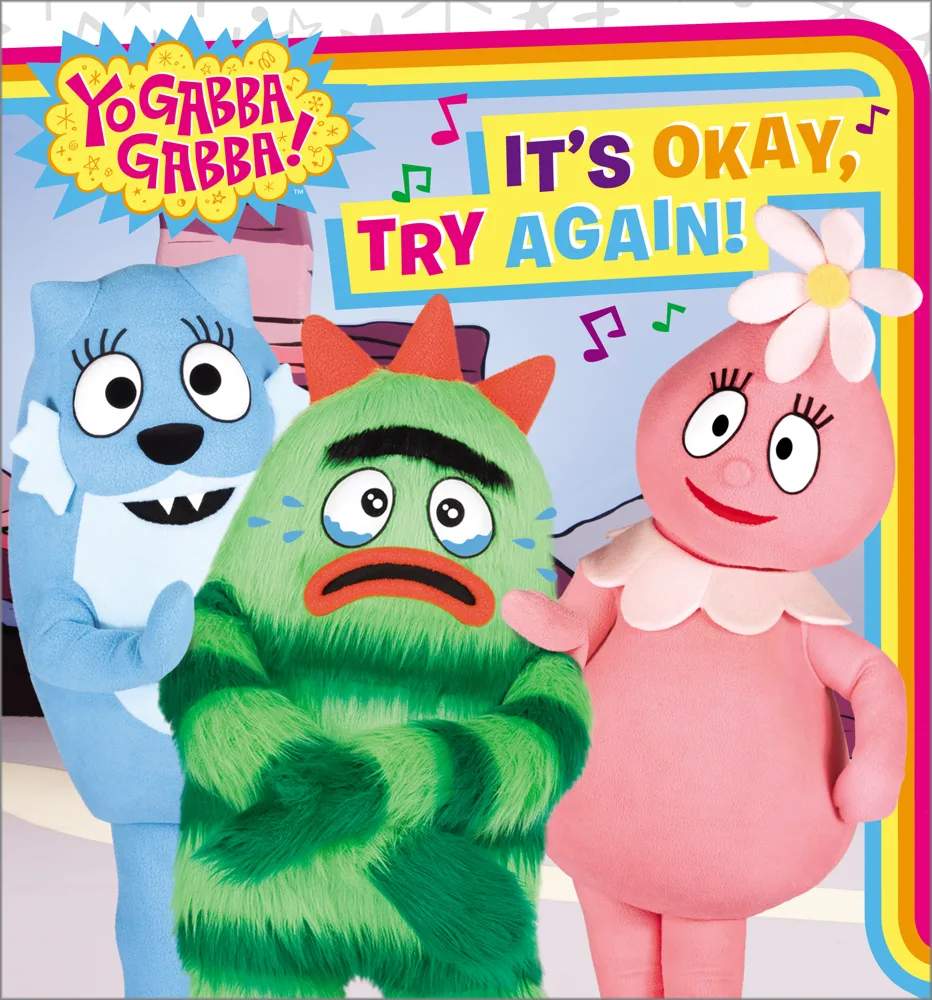 This book is based off of a Gabba song and encourages kids to keep trying when things don't go right. Rissa has learned that Brobee cries a lot in this book, so she'll cuddle her stuffed one and have him cry. I love that it teaches kids to never give up! The back of the book says to find more books at your favorite store. So far we can't find anything in local department stores besides a DVD! This is one of her favorite books now for the past couple months. We always take it with when we go out of town to help keep her entertained.
3 – TY Yo Gabba Gabba Beanie Babies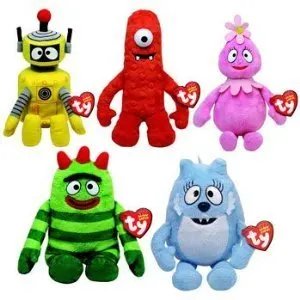 So far Rissa has Brobee. We happened to find these at our local grocery store and I had to buy her Brobee. She loves him to pieces! You can find Brobee, Toodee, Plex, Muno and Foofa as a set or separately.
4 – Yo Gabba Gabba Toddler Blanket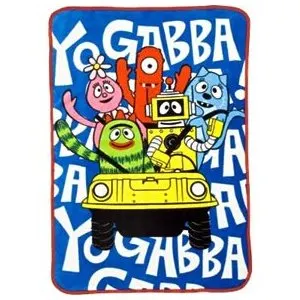 Kids love cuddly blankets – especially with their favorite characters!
5 – Yo Gabba Gabba Boombox Playset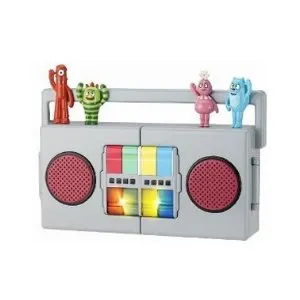 Let the kids play with the Gabba gang in Gabba land. Hook up an MP3 player with a Gabba music CD for the ultimate live Yo Gabba Gabba experience!
I haven't even covered the tip of the Gabba iceberg… click to see more awesome Yo Gabba Gabbba toys, toothbrushes, tents, books and more!
_________
Disclosure: We received the Live DVD and the Keep Trying book to review from NCircle Entertainment. We purchased the beanie Brobee and the rest of the set (which is hidden for her birthday). The other items are just suggestions! Links to Amazon are affiliate and will help support our Yo Gabba Gabba habit.