Wow, here we are at 37 weeks. We are nearing the end of my pregnancy, my friends. At this point baby could literally come at any time. Never know what pregnancy journal will be my last!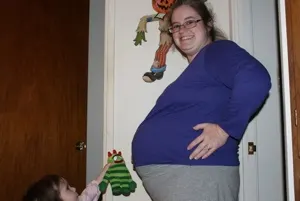 We just got a DSLR camera so you'll start to see better quality pics around here. Rissa really wanted Brobee to be in this week's belly shot. And yes, I look a mess. My pants selection is very limited right now!
Anyway, I have some updates to share! I finally have a doula and a birth plan. It feels like a huge weight has been lifted off of my shoulders. My doula seems great. I felt comfortable with her right away. She has 6 years of experience and seems in line with my goals and philosophies. Rissa liked her right away too.
I also put together my birth plan, which I think I'll go into more detail in a later post. I used a free birth plan template* which helped me to not forget anything. My OB seems fine with it so yay!
I think you'll see one more bump update before he arrives. I had an OB check yesterday and am still 1-2 centimeters dilated. I'm a little more than at my check last week but not quite 2 yet. His head dropped a little and I'm 80% effaced. I'm having contractions at least once a day so things are getting ready!
Now to pack my hospital bag and finalize arrangements for Rissa's care while I'm giving birth.
What kinds of things were you doing to prepare in the final weeks?
*My affiliate link if you buy anything while there.