I love bread. I love it a tad too much probably. When we go out to eat I get awfully excited about the bread basket! (Seriously! For example, at Fazoli's I love it when they come around to offer more breadsticks. I get bummed out if they don't do it before we are done eating.)
When I'm not pregnant, sandwiches are my go-to for lunch. We go through quite a bit of bread at our house. Almost every morning there's toast for breakfast. Rissa loves peanut butter and honey sandwiches and I love a variety of sandwiches myself. It's tough for me when I'm restricted from deli meat because I crave a delicious sandwich so much!
Here are two of my favorite sandwiches that I discovered in my cookbooks. I know for sure one is from a Taste of Home cookbook but I'm not sure if both were in the same one or not though I adapted the Monte Cristo to my liking!
The Ultimate Grilled Cheese Sandwich Recipe
Ingredients (for 5 servings)
1 package cream cheese, softened
3/4 cup mayonnaise
1 cup shredded part-skim mozzarella cheese
1 cup shredded cheddar cheese
1/2 teaspoon garlic powder
1/8 teaspoon seasoned salt
10 slices of Texas Toast (you need thick bread for this!)
2 tablespoons butter, softened
Directions
Beat cream cheese and mayonnaise until smooth.
Stir in the cheeses, garlic powder and seasoned salt.
Put the cheese mixture over 5 slices of bread, then top with the other slice of bread.
Spread butter on the outsides of the bread.
Use a small skillet or a mini grilled cheese griddle. Use medium heat for about 5 minutes or until each side is lightly browned.
Enjoy the gooey, creamy goodness!
Turkey Monte Cristo Sandwich Recipe
Ingredients (for 1 serving)
3 slices of bread
4-6 slices of turkey (depending on how thick they are and how much you like on yours)
2 slices of cheese
1 egg
Directions
Layer turkey slices on top of one piece of bread.
Top with a slice of cheese.
Add one piece of bread for a middle layer.
Add another slice of cheese.
Top with remaining turkey and slice of bread.
Lightly beat egg in a bowl and carefully dip both sides of the sandwich in it.
Wrap up tightly and place in fridge for at least an hour (I love preparing them at night so they are ready for breakfast).
Toast in a skillet on medium heat until each side is browned and cheese melts!
Did you know November is National Bread Month? And what better and EASIER way to get grains into your family's diet than with sandwiches?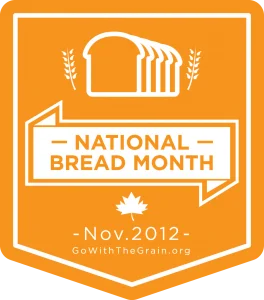 And not only is it National Bread Month – it is the 250th anniversary of the sandwich!
Here are some facts about bread and grains:
They provide essential nutrients for our bodies that keep us healthy and help fight some diseases.
They are convenient, affordable and versatile.
They can be used for quick and easy on-the-go meals.
Whole grains are an excellent source of fiber and complex carbohydrates and low in fat.
Even enriched grains provide complex carbohydrates and other nutrients such as iron and folic acid.
Bread is an excellent foundation to a healthy meal.
Sandwiches are a great way to provide your family with an affordable healthy meal!
To help celebrate the 250th anniversary of the sandwich and National Bread Month, Celebrity Chef Bryan Voltaggio has created some delicious recipe creations!
What's your favorite sandwich?
______
Disclosure: I wrote this review while participating in a blog tour for Mom Central Consulting on behalf of the Grain Foods Foundation. I received a promotional item to thank me for taking the time to participate.