This week I started my nonstress tests (NSTs). I'll be having them twice a week until baby boy gets here. It's part of being considered a high risk pregnancy. NSTs are a mixed bag though.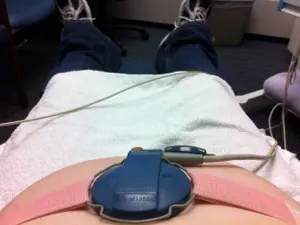 All strapped in and ready to go!
When I was pregnant with Rissa, the first couple NSTs were nice. Once you get over the scratchy belts and enjoy chilling in a recliner for 30-45 minutes, it turned into naptime for me. It was sweet! Best way to get naps in during the workday!
Unfortunately, after the first couple appointments things weren't quite so relaxing. A few times Rissa had hiccups which were amplified by the monitor. It was loud! It's kind of nice hearing baby's heartbeat the whole time though.
My last OB showed me the readouts and I could see the heart rate on the monitor. I can't remember how much of an increase they wanted to see but within 30 minutes they need to see the heart rate increase so much at least twice. Unfortunately, if baby is sleepy they don't move much…and their heart beat stays steady.
The first time Rissa didn't "perform" I had to stay on the monitor for an extra 30 minutes. My OB said the peaks weren't high enough to pass…
So I then needed to stay for an ultrasound called a biophysical profile (BPP). She said they needed to check on her to make sure she was okay.
I started crying.
I began to worry that everything wasn't okay. Then we had a new test to pass. During a BPP the tech needs to see baby practice breathing, a variety of movements and measure fluid. They need to see everything on their checklist within 30 minutes.
She didn't meet the whole checklist so I had to have another BPP the next morning. Talk about stressful. I was assured that Riss was "probably fine, but…" yeah so that made me nervous!
After another "failed" NST (but a passing BPP, phew) I was switched to twice weekly BPPs.
So the other day for baby boy, I had to be on the monitor an extra 15-20 minutes. The nurse had to seriously shake up my belly then they got better readings. I'm already wondering when all these NSTs I have scheduled between now and my due date might get changed to BPPs…
Hopefully I won't get as nervous and worried if baby boy's readings aren't "passing." Did you have to go through extra monitoring in your pregnancy?