Each week brings a little bit more excitement and panic at the same time. Even though I've "been there, done that" it's still a little scary thinking about being responsible for two little ones. I can't wait, but you know… I just hope to be the best mom I can for both of them.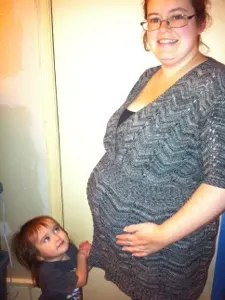 Rissa is noticing the baby belly more. It's cute though because she thinks my belly button is the access point. She will lift my shirt to show her brother toys. Awww!. She's also learning his name and seems to be looking forward to baby coming home.
We will see if she still feels that way in a couple months!
In just a couple weeks I have to start seeing my OB every other week plus nonstress tests (NSTs) twice a week. Lots of monitoring for me just like last time. I'll also continue to have ultrasounds every four weeks to check his growth.
I just had another ultrasound last Thursday and I'm happy to say he's growing well! He's measuring about 3lbs 5oz now and is around where he should be (normal range yay!). I've managed to gain about 5lbs in the last 3 weeks though. It's all baby though, just like last time.
He was also head down – yesssss! I had a feeling he flipped since my pelvic pain has gone away for the most part. He doesn't kick and punch the way Rissa did, I mostly just feel him twist and turn. Maybe he will be more laid back than his sister?
Now it's time to start planning for Rissa's care while I'm in labor, picking out a coming home outfit, talk with my OB about my birth plan and start packing my bag(s).
Oh and do all the other house prep like frozen meals, laundry (it never ends!), and clean!
What meals do you suggest freezing ahead?