With Rissa, we never had a travel system. Since she was a late fall baby in Wisconsin, we figured we wouldn't be using a stroller really until spring. It didn't seem necessary for us; however, there were some nice days where we could have enjoyed a walk if we'd had one. We owned an infant car seat and stroller by the same company, but without an extra piece it didn't work together as a travel system.
Now with baby boy coming this winter, you'd think I still wouldn't need a travel system based on my previous logic, right? Well, I still had my own car when Rissa was born, now I don't. I know there may be days we all need/want to get out of the house during winter and a travel system will come in handy. Plus, I already have a trip to Texas planned next March for just baby boy and me – I'll need a way to get us around the airport without too much of a hassle.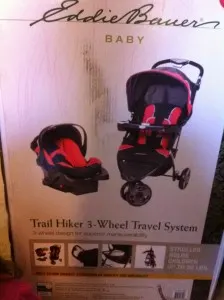 So getting the opportunity to review a car seat/stroller combo was just what we needed! We received the Eddie Bauer Trail Hiker 3 Wheel Travel System (ARV $249) (which is available exclusively at Target) to test out.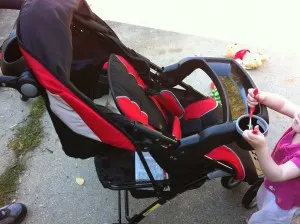 First off I love the color – the black and red is vibrant, neutral, and stylish. I even have a diaper bag to match it.
We put together a video showing how easy it is to assemble and operate:

You'll want to check it out for my thoughts on features not covered in this written review.
As I was saying at the end of the video, it has great maneuverability. I've never used a three wheeled stroller before, but I found it to take tight corners well and do okay with one-handed pushing for a short period of time. The parent tray is nice with two cup holders and a covered compartment that can fit a smart phone and keys. It even has a hole on one corner for headphones to come out through.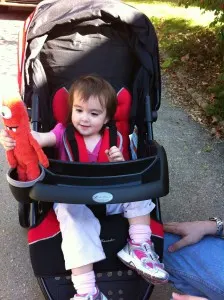 We've been using the stroller quite a bit lately for our evening walks and to get to storytime at the library. Rissa seems to like it! And I really love not having to pop the front for every bump in the sidewalk. You know how the slabs can get uneven and raised? Two other strollers will stop us dead in our tracks as we hit those unless I pop the front up in the air. This one climbed right over them.
I'm looking forward to using the car seat for our son. Rissa is now at the height limit for it, but I love that it goes up to 35lbs. That's more than our other infant carrier seat. We aren't ready to install this in the backseat for another month, but it has a LATCH system for easier installation and a super easy to read level indicator so we know how it needs to be reclined based on baby's weight range. Oh and it has instructions on the side for how to install the seat without the base using a seat belt. It looks simple enough and will be perfect for when I fly with baby boy and strap it into a cab.
The price point seems high, but when you think about what a stroller and car seat cost individually it is a pretty good deal. Considering that the car seat havs a higher weight/height limit and the stroller also goes up to 50 lbs (whereas our others go up to 40 lbs), it is a great value. Again, this Eddie Bauer Baby system is available exclusively at Target and Target.com.
Did you find a travel system useful during the newborn days?
_____
Disclosure: We received a travel system to review; no other compensation was received.