I think you all know that I can't keep baby's sex a secret until birth. I just can't do it. I like to know as soon as possible and get a little bonkers when the ultrasound techs aren't quite sure. Still, I proceeded with some caution during my first pregnancy when it came to buying baby clothes. Well, I started buying before we knew Rissa was a girl because I was just SO excited about being pregnant that I couldn't WAIT to shop for baby stuff.
So, I started out buying gender neutral items – greens and yellows featuring giraffes, ducks, frogs, and monkeys. (Though some people tried to tell me the frogs were boyish. Pfft.) While that was fun, I didn't want ALL greens and yellows. I still wanted blues and browns regardless of baby being a boy or a girl, but definitely purples and pinks if it was.
And honestly? The clothing I received from baby shower guests were more fun when they knew what I was having. But, if that was a secret, I know we would have received more neutral items.
As I started nesting more near the end of my pregnancy with Rissa, I worked on washing all her little newborn clothes and blankets in preparation of her arrival. After cutting off all the tags, I had a moment of panic. What if all my ultrasounds were wrong? What if she was really a HE? All the pink clothing surrounding me scared me.
This child will be naked if its a boy!
Okay, so that wasn't true since I did buy several neutral outfits. In fact, I still picked a neutral outfit for coming home even though we were 99% sure it was a girl. I just wanted to be prepared! In some ways I started to think being Team Green was less stressful – they didn't have to worry about being wrong only surprised!
Well, Rissa was born as a girl as we expected and now I'm expecting a baby boy. For a little while there we weren't too certain, but follow up ultrasounds have made it quite clear. Still, not everyone is lucky enough to have numerous ultrasounds like we get due to being considered high risk.
So, now that I only have 9 weeks left to my due date for #2, I've been going through Rissa's outgrown clothes. I finally feel confident that we can get rid of all the girl stuff to make room for boy stuff. We've bought a few "boy" outfits now and I'm keeping all the gender neutral clothes, but I haven't decided on his coming home outfit yet.
If I didn't know if he was a he or a she, I would most certainly choose this….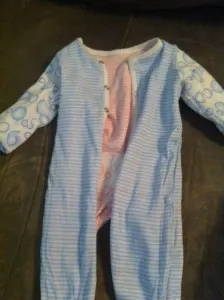 A pink to blue reversible outfit by TwoTara, named after a chameleon like lizard that changes colors over time. All of their baby clothing comes two sided so you just have to flip the garment inside out to show blue or pink! A seriously awesome baby shower gift idea, particularly for anyone keeping baby's sex a surprise. It's neutral yet not at the same time, but allows you to have ONE outfit that is perfectly suitable for BOTH boys and girls. (And a keeper for the next baby!) You know, this would be great for hospitals to use when they dress baby after their first bath!
I love how the snaps and everything work perfectly find no matter which way I turn the garment. It's adorable! And it is totally in the running for baby boy's coming home outfit!
Do you think more newborn clothing should have reversible colors like this?
_____
Disclosure: We received an outfit to review; no other compensation was provided.