It didn't really hit me how soon my baby will be here until the other day. 24 weeks isn't quite the home stretch yet, but I'm only a few weeks away from starting the third trimester. Last time that part of my pregnancy seemed to FLY BY. I was so busy with attending classes at the hospital (labor and delivery, breastfeeding, bringing a new baby home/basic cares), working a full-time job, LOTS of appointments to monitor my gestational diabetes, and two baby showers.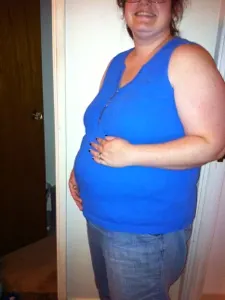 Oh and preparing the nursery and washing baby clothes, blankets and towels.
Right now I'm just anxiously waiting for another ultrasound to confirm if there's a boy in my uterus or if the girl's cord was showing. Hopefully we can see better in two weeks at my next appointment!
I think what brought me out of the fog a little bit was when my OB talked about starting twice weekly nonstress tests (NSTs) to monitor baby's heart rate and activity. Like that starts soon. How can it be so soon?
So far my GD monitoring is going fine. My fasting numbers have finally come down where they need to be after continuous tweaking of my one evening insulin injection. I will probably start some mealtime insulin soon but otherwise I've been doing pretty good numbers-wise! I had even gained a pound then lost it again so I'm at maybe 2 pounds gained total so far. (Which means I'm actually losing weight just like I did last time!)
Goodness it feels like there's so much I need to do yet… Tour the hospital, a sibling class (maybe), and I still want to check into a doula but the cost is definitely a deterrent right now. (They deserve the pay, I just don't have it to give right now.)
In the meantime I've been working hard with my due date buddy, Emily, over at Family and Life in Las Vegas to bring you all an awesome mom & baby event at the end of September!
Which trimester went the fastest for you?