I really wish this Wisconsin weather would make up its mind! One day it's nice, next day there's a heat advisory, then rinse and repeat. I do not like the heat advisories while pregnant since I'm already running hotter than everyone around me! Add in a toddler who likes to snuggle and I'm just one sweaty mama.
(Sorry for that image..)
Well, I cheated. I forgot to have Brian take an updated baby bump picture (first week I've missed!) so I thought I'd re-share this picture. You may have seen it a couple Wednesdays ago…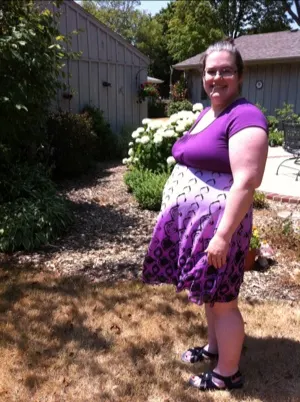 Maternity clothes! I've been getting ready for my trip to NYC for BlogHer '12 blogging conference and wanted to find some trendy maternity clothes to wear. I mean, everyone says to wear what you are comfortable in, but I don't think maternity yoga pants, a tank top and no bra will make the impression I'm going for (though I will probably wear the yoga pants at some point during my trip). Thankfully I found Sweetpea Maternity which has a lot of cheap maternity clothes to choose from and they look nice too! And – this is important to me – they offer some plus sizes.
I really should have done some more shopping on their site after receiving this dress to review, but my spending money is ultra tight right now. I have half my pregnancy left though, so I'm sure I'll shop soon enough! As much as I tell myself I have "enough" maternity clothes, I really don't. Plus a cute new top can help cheer me up as my belly gets even biiiiigger. This dress is nice and light, which will be perfect for walking around in NYC during August. It's not nursing accessible though, but I think it will still fit nice after baby comes.
Speaking if travel… I'm a tad nervous about flying while pregnant. I don't want to go potty on the plane, but I'll need to keep moving my legs to prevent blood clots. Oh and I'll have Rissa along too. She's all elbows and knees into my belly now! Having her sit on my lap for a two hour flight should be… interesting. One thing that is super cute is when she hugs the baby. I have to get a picture of her snuggling my belly!
Where do you like to shop for maternity clothes? Have you ever flwn while preggo or with a toddler? Tell me about your experience!
_____
Disclosure: I received the dress to review!